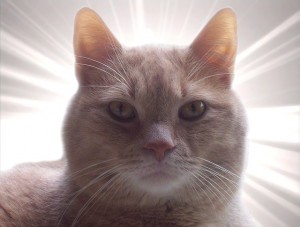 Welcome to Blog on Blog: A bi-weekly blog dedicated to some of the most obscure and interesting blogs from the depths of the Internet.
There will be plenty of strange and startling website wonders to ponder and explore. No subject will be too taboo. We'll find plenty of online oddities! Don't be afraid, this is Blog on Blog: The Super-Meta Blog!
Oh, cats! You are amazing creatures. From your alleyway screeches of passion, to your twilight harassment for food, somehow you find a way to get us to do your bidding. Our love for you makes us tend to your every need, slave over you night and day. No wonder you were worshiped as gods in ancient Egypt!
Somehow my new living arrangement has forced me inhabit a house with cats. Three cats! With three completely different cat personalities.
This can be very difficult to deal with, all of these cats fighting amongst each other and nagging yours truly. But at least cats can also be quite humorous; like when the fat cat, George, falls off a chair she tries to jump in, or when Chu Chu boxes me in the face with a white paw, or when Buddy serenades me with his late night meowing routine.
Although, for someone like me, living with these cats can make life incredibly difficult, since, after all, I live with these cats not out of love, but out of necessity. You see when I moved in to my current apartment they were already here, and since they were here first, I have no choice but to try to get along with these semi-wild, completely selfish, but highly entertaining pets.
Thankfully their are many blogs out there that can teach me how to learn to love these animals, through humor.
It is true, cats are really funny animals! Which is why cat blogs rule the net when it comes to animal humor.
How popular are cat blogs, you ask?
They are really popular. There are millions of pages on the inter-webs dedicated to cats. They are so popular they must take up at least a third (after sites dedicated to porn and pharmaceuticals) of the entire internet.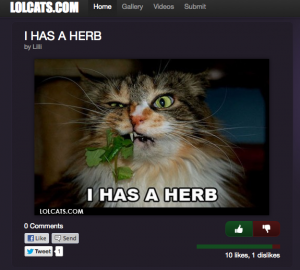 Here is a series of blogs I think you'll find explosively entertaining, and rather than look at sites dedicated to "how to" knowledge, like veterinary care or how to massage your cat, today we are just going to look at the lighter side of being a cat.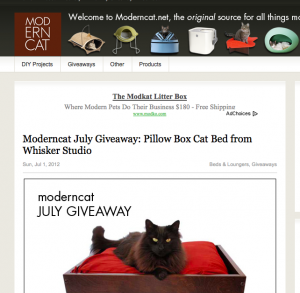 Modern cat
You know what cats really need? Their own damn furniture, so they can stop messing up yours! Modern cat has it all, and while at first this site might not seem too funny, when you see a cat sitting in a yuppie style art deco piece that cost a large sum of money, you will have no choice but to snicker to yourself. Although to be fair, there are some pretty cool pieces of furniture on this site. Maybe George could use a 70s style cat bed?
LOLcats
I heard LOLCats is so popular its site is valued at a few million dollars. I didn't really do that much research into that, but this site is up there in top ranking for cat humor, so you probably already heard of it. I know for sure that FTB contributor Mike Gwilliam loves this site and I don't blame him, the comedy on this site is killer. Also check out Icanhascheezburger another site affiliated with LOLCats. if you like funny cat memes than you'll love this blog.
The Daily Kitten
Somewhere in the world, every few seconds, a kitten is born, and thankfully, now, because of the Internet, that kitten can have it's picture uploaded on TheDailyKitten. Keep updated on all the new kittens in the world on TheDailyKitten.
Theittybittykittycommitee
It is great to see sites dedicated to orphaned kittens like The Itty Bitty Kitty Commitee. Is there anything more adorable than an orphaned kitten? I think not! This is one of my favorites; I just like gawking at squishy, cute, adorably furry kittens. And you can also make a donation to the cause of abandoned animals, which if you read Maria Amore's last post you'd know is a serious problem in Montreal and elsewhere. Please stop abandoning your pets. It's not funny..especially since I'm forced to live with them!
Stuffonmycat
Man, I love this site. Do you ever wonder why we get so much pleasure out of putting stuff on our cats?
Maybe it has something to do with the mischievous nature of human beings. Just like drawing mustaches on unsuspecting couch sleepers at parties. If your into that you'll love Stuffonmycat.
William of Mass Destruction
Two felines keep us up to date on their daily activities. This is what happens when we let cats write blogs. Keep up to date on the day in the life of a cat (which may  or may not in fact be written by one crazy and obsessed cat owner) on William of Mass Destruction.
Lou vs. Rick
If letting your cats blog wasn't enough, how about letting them text message. What would your cat say to you? Mine would probably ask for food. Find out daily on LouvsRick.
Hopefully these sites will help you get your daily cat fix, for Blog on Blog this is Jerry Gabriel signing off…