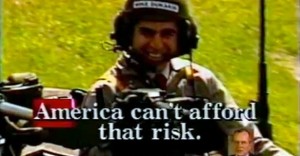 It's Election time, and if you're like me you've probably been scouring the internet for information and polls on the current US Presidential election. And while you probably don't need any comic relief during this very strange campaign season, there are plenty of funny blogs dedicated to this election.
Half the time it's hard to believe what some politicians spew out: this is especially the case when speaking about guns, the female reproductive system, aborted fetuses, double-downing, lowering taxes and saving the middle class. What middle class?
Republicans, seriously, don't worry. Democrats will find a way to lose this election. Although you'd be doing better in the polls if Democrats didn't get upstaged all the time by the clownish Tea Party senate candidates.
Usually the democrats are so good at it…ahem..think Michael Dukakis in a tank…I just can't figure out how they plan on wining this election?
Even God's trying to help them.
I mean seriously, the "storm of the century" is hitting all the places Obama needs to win.
Now politicos of every spectrum are saying the campaign has reached it's lowest common denominator to secure votes: politicians must pretend, that deep down inside they relate and care about the well-being of others. This means having to watch Romney try to care about the 47% that want to borrow his money!
Welcome to 2012 Presidential Campaign: Where anything can happen. Act of God, why not!
Conjuring storms, God seems to have "overcast" his ballot..and I don't think he likes Blue State liberals so much.
But don't panic! Some of those blogs I mentioned can help you get through this time of terrifying indecision. If you can't laugh at the current political venomous atmosphere what can you laugh at?
Maybe these pages will even help you make up your choice.
Here are the best satirical blogs about the 2012 Presidential Campaign:
This is not really a blog, but rather an aggregator site that captures what's trending and attaches the wittiest, snarkiest comments and the funniest tweets you've ever read. Say what you will about Twitter, but through this site it speaks wonders about what people are thinking about Mitt Romney.
Why bother mentioning the Onion, they're already big, with a massive following. Well, because they're still one of the top sites for fake news and they still got it baby!
The Onion has been taking fake comedy news to a whole new level since beginning as a weekly printed publication in New York. While being big, they still retain their cred by being masters of funny headlines, especially for the American Presidential campaign. Where else would you see headlines like: Romney Foreign Policy Debate Prep In Crisis Mode After Discovering Existence Of Country Called 'Womania'. Or: Obama Takes Out Romney With Mid-Debate Drone Attack
And how can I not include Comedy Central's site Indecision Forever. We all know that The Daily Show does a great job mocking "serious" news and commentary shows, focusing on the tricks of the trade that these shows employ. It was a refreshing change, especially after the reelection of George W, when this site carried the people through with indecision.
Jest just has great articles and funny memes and yes I mean plenty of Romney face swaps.
Mock The Vote
Get your tshits! T-shirts here!
Do you need an ironic campaign tshirt? Then this is the site to check out!
10 cents of every purchase goes to feed a starving politician after his campaign bid fails!
ZDnet Best Campaign Memes and Satire
This collection of memes is pretty awesome.
This buzzfeed list is kind of old timey, I mean a lot of these slogans are out of date, but it still have a lot of relevance. How could you not vote for Ross Perot with a campaign slogan like: "Ross is Boss" or Herbert Hoover's famous: "A Chicken In Every Pot And A Car In Every Garage."