I had the clown nightmare again. This time I was marching towards a shinny carousel surrounded by darkness. Some unknown magnetic force was pulling me towards the musical octagon, so I couldn't get away, my feet were locked, moving forward.
I stepped up the carousel step, a very large awkward step, and sat down in the cold seat of a chariot. Then suddenly, for no reason, the carousel sped up. I tried holding on to the pole in front of me but my hand kept slipping off the side.
Then a clown with a red curly fro and a polka dot white baggy suit jumped out of one of the empty chariots in front me. I recognized the clown from another dream, but I couldn't remember what dream. He moved towards me with ease even though I was having increasing difficulty standing. He gave me a big smile and that was when I noticed that he looked a lot like John Wayne Gacy as played by Brian Dennehy but with a twisted Pennywise smile.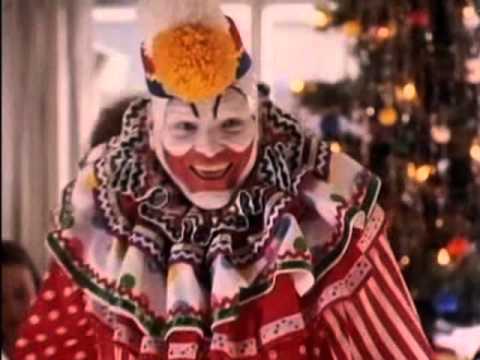 Suddenly I had to make a choice: either fall into the pit of darkness or fight this clown who was now taking swipes at me with his shiny knife…That's when I woke up, covered in the cold sweat of terror.
Since childhood, I have harboured a deep rooted fear of clowns, so I had trouble falling back asleep. I got up, drank an entire carton of milk, then ate a pickle. Afterwards I couldn't stop thinking about the dream so I Googled"Clown Nightmare"and here were my results:
Coulrophobia- Wikipedia
The prefix "coulro-" may be a neologism derived from the Ancient Greek word κωλοβαθριστής meaning "stilt-walker."[nb 1] Although the concept of a clown as a figure of fun was unknown in classical Greek culture,[4] stiltwalking was practiced. Honestly. Never trust a man on stilts. If he can't look you in the eye then he's got to have something to hide.
It's true that Wikipedia was kind of a cop out, though it has taught me so much about random crap at two in the morning (where else can you learn about the bombing of Dresden while snacking on potato chips?). It even taught me this really cool new psychological nomenclature: "Coulrophobia."
Neat, huh? And who knows how long humans dreamed about evil clowns; perhaps medieval children's nightmares were full of evil killer jesters. Maybe even earlier. The ancient Babylonians had diabolic trickster demon-gods that resembled clowns…think about it.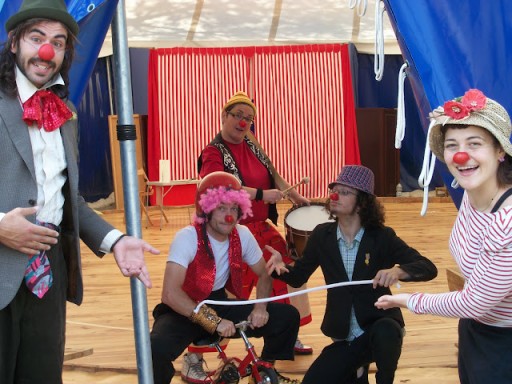 Clown Blog|jondavison.blogspot.ca
Going to the circus as a child may cause latent detrimental effects in adults: some people now walk the earth dreadfully afraid of clowns. But before we give into our fears, we ought to ask ourselves: What is it like to fill a clown's shoes?
I think Jon Davison's site Clown Blog helped me understand the motivations and reasons behind the attraction to this profession. There must have been a few good motivations. After all, only a small percentage of  clowns and mimes are really evil.
Analyzing your dreams or nightmares|Dream Bible
No longer convinced that all clowns are out to get me, I started peering at the next site dedicated to the psychology behind clown dreams. The Dream Bible seems to focus on an interpretation of personal embarrassment. Since embarrassment is something we choose to hide it oftentimes come through in our dream state, in the form of clowns.
For instance, did you know that clown sexually assaulting you means that you fear the lack of control you have when embarrassed? The more you know!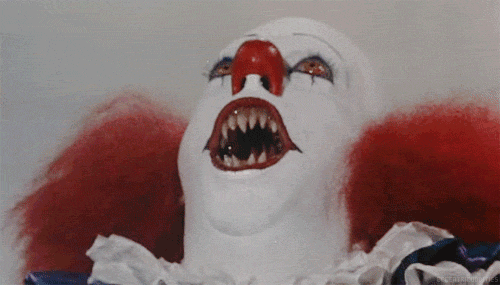 Murderous Clown Nightmare That Feels Sooo Real | Clowns Dream Interpretations|Experience Project
Just like my own sharing of  a clown nightmare earlier, there are many sites dedicated to the sharing of personal experiences. It's often nice to reach out to people and find someone who shares you fear, or your nightmare; whether it be fear of alien abduction, herpes-type rash or a shared fear of mimes and carnival acts.
People need to know they are not alone. The Experience Project is a pretty good social network for dream analysis.
Killer Clown|Tumblr/The 9 Most Frightening Clowns On Film
You know what's a really bad idea? Looking up all these ridiculously scary clown gifs an hour after a clown nightmare.
With my plans to got bed over I decided that the best way to get over my fears was to watch a movie about them. So after reading  the  9 most frightening clowns in movies  I tried watching Carnieville, which turned out to be a very good idea.
Turns out I  have no problem falling asleep while killer clown movies play in the background . In fact I was knocked out cold…