Across North America a new trend is delving into the massive failure of capitalistic projects in the age of austerity and may in fact represent, to a larger extent, the downfall of the American Empire… I am of course speaking about the ubiquity of vacant malls and the many blogs dedicated to them.
In deserted, abandoned, "one horse" cities, they are a sad reminder of the once great state of the capitalist bulk and decadence left behind in the structurally sound, but culturally inept, enclosed shopping mall.
These malls are littered with vacant lots of shops long gone bankrupt, where the only thing left behind is the grey wall-to-wall carpeting still imprinted with soles of customers that haunt the place of a once great shopping experience.
The Internet is full of sites dedicated to their unique box architecture and their subculture – shopping fiends in search of the best buy.
Let's look at a few outstanding blogs dedicated to these Goliath structures of mass retail that turned into sore reminders in the form of Ozymandias type monuments: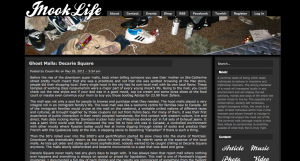 Mooklife/Ghost Mall
It's best to start locally, I always say. Montreal, has one the most legendary vacant malls in the world – I am of course talking about the Decarie square. Since it's inception there were high hopes for the mall, built right off the Decarie auto-route, it was a feature of the new enclosed mall shopping experience that was pushed at the late seventies early eighties. Unfortunately for the mall it has changed hands, ownership wise, and it`s been the kid in a custody battle between the city of Montreal and Cote-Ste-Luc..well at least there's a dollar cinema!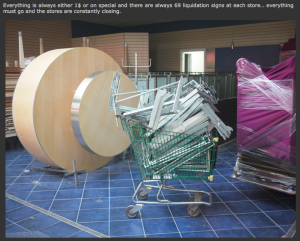 They come for the sales but, most of the time, they ended up getting more then they bargained for, including serious bacterial infections, depending on which under maintained bathroom used.
Many malls, especially ones that were based on the Costco/Walmart model destroyed the local store, but now, these malls are fighting for survival, trying to drum up business and stave off inevitable death. A lot of these malls have turned into bargain basements with little or no maintenance, basically just concrete decrepitude and dereliction. None more so then the Decarie square:
Mooklife, a blog located in Montreal, really has the sense of humor to delve into this disaster by the auto-route. The pictures are funny, the captions are pretty hilarious too. At times I felt like I was reading Vice magazine. He got to the point of what plagues the Decarie square, and dissects it with the wit of a sharp scalpel.
A few years ago Reason published an amazing article on the state of malls, specifically enclosed malls in the United States and how they were dying because of bad foresight on the economy and changes in shopping patterns.
I learned so much from this post, for instance, I did not know the startling figures of desolate malls compared to their more successful counterparts. And did you know malls are cannibals? – sucking out the life force of other malls by moving within close proximity? It`s all true. Check it out!
Deadmalls

Deadmalls.com is the ultimate site dedicated to stories about failed malls. Or just personal experiences walking through dead malls. My personal; favorite is about a mall in Toledo where half was hacked away, leaving only half a mall after a development group ran out of cash. These are of course hard times, so site keeps getting bigger and bigger. It has a great index where you can look up any state.
Also check out these videos about the landscape around abandon malls:
Greg Shall is a photographer from Minnesota who dictates his time taking photos of dead or dying malls.
http://youtu.be/kVyIVNXjS4A
Many sites on the internet are dedicated to abandon mall exploration. Malls can be great urban hubs of exploration, especially those badly maintained and for the most part forgotten. Check out this video of an exploration through a former mall in Toledo:
Photo courtesy of deadmalls.com, mooklife.com and reason.com