Maybe it's nostalgia. Maybe it's just the thought of Alf's face that makes me light up with glee. But when I look up eighties pop culture on the internet I can't help but feel like I belong, and it's not just because it reminds me of my early childhood.
The eighties had a special je ne sais quoi, a hodge-podge of style and culture that resulted in not caring if that rat tail went with those neon sunglasses. All that I know is: It was "cool" when I was five.
Recently a friend of mine brought over a hard drive full of shows from the 80s and I decided for some ungodly reason to watch Three's a Crowd a spinoff of Three's Company. After this experience I felt compelled to write this week's Blog on Blog on the ninteen eighties.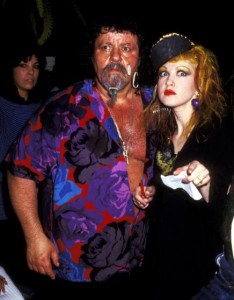 I was very young around the eighties. What I remember about them is there was an ET, there were Perfect Strangers and a wrestler who wore an elastic band on his face and  partied with Cyndi Lauper. There were LCD games and Goonies and elaborate hairstyles, meshed up together in my memory.
Let's face it, for us who were really young living through the nineteen eighties our memory is a little blurry. This is why we have the internet: our link to the past.
The Music
Pop Eighties
Where else should we begin but with music. The music of the eighties was pretty unique in its style and Popeighties is the site that will take you down musical memory lane.
Lost in the 80s
Then there is the music that I never really got. I mean there was cassette after cassette produced of this junk. Thousands of cassettes must be somewhere now piled together on the floor of an abandoned BMG warehouse. This blog is that warehouse of music.
The Great 80s Blog
If you're into Pac-man and Rubik's cubes this is the site for you. But this site is also dedicated to the fashion, style, television, music and general culture of decadent eighties. Check out the great 80s blog and jog your memory on music you may have forgotten,
The Unofficial Weird Al Yankovic blog. What would this decade be without the musical re-inventions of Weird Al? Yes. This is a parody of a parody site. These people even pray to Al. This type of devotion to Al, also known as "His Lordship," can only be found on his unofficial Fan Club.
Ten Crazy 80s Haircuts in Music
This really could have fit in either the music or hair category. Trailblazing hair in the eighties caught on from the popular styles of music. There was so much weird hair that went along with music , Suzie and the Banshees, the cure , etc.
The Hair

Yes it's true, Flock of Segulls had some of the weirdest hair in the 80s, but that isn't a crime is it? These people were the "hipsters" of their time, victims of a world submerged in new found wealth and decadence. A world where Versace suits were worn to business luncheons and cocaine breakfasts were common – fashionable hair was the only escape from this type of meager existence.
Like Totally Eighties Mullets
Business in the front party in the back, the two styles collided in the 80s and made for one of the most fundamentally frightening looks of all time. I am of course speaking of the mullet. Now these weren't no creeper mullets that just snuck up on you. These mullets went full force.
The Shows
The Great 80s Television
The eighties had some classic tv shows that have managed to withstand the test of time. It will be remembered for it's great dective shows like Magnum P.I. and Simon and Simon, but also Dukes of hazard, as well as The Cosby show, Perfect Strangers and so much more. This blog thoroughly goes over every detail of popular TV shows of the time. The sitcom ruled this decade and made way for trailblazing shows like Seinfeld and Twin Peaks.
The Alf Blog
The Alf blog deserve recognition because the person that runs it seems to hyperventilate every time there is discussion of Alf making his way back to television. A few years ago there was a rumor that Alf was going to have his own talk show, but that never seemed to pan out.
80s Wresting
The eighties were good to wresting. It's where I got my first taste of the World Wresting Federation). There was Bam Bam Bigelow, Hacksaw Jim Duggan, Ravishing Rick Rude Mean Gene and so many more that made wresting great. For me the story lines never really improved past the "I'm coming after you" story arcs of the 80s. Check out these classic wrestlers from the eighties.
Dead Wrestlers
Thanks to steroids and drug use wrestlers are the fastest dying population in America today. Unfortunately for many of these greats they had a limited time in the ring and are now wrestling angels for wings up in heaven.
And just to throw in a little of the wrestling morbidity, here's a site I find really fascinating since it dealt it the many, many wrestlers I have forgotten about that came from what I would call wrestling renaissance, the nineteen eighties.