Welcome to Blog on Blog: A Weekly blog dedicated to some of the most obscure and interesting blogs from the depths of the Internet.
There will be plenty of strange and startling website wonders to ponder and explore. No subject will be too taboo. We'll find plenty of online oddities! Don't be afraid, this is Blog on Blog: The Super-Meta Blog!
Now considering that the whole concept of Blog on Blog is really meta, I wanted to see just how meta I could get. So for our first subject, we'll be looking at blogs for first time bloggers on the subject of blogging: So this Blog on Blog is on blogs on blogs.
Many sites will tell you that you have to write on financial markets or the economy to make money in blogging, but that simply isn't true, writing on any subject can make you money writing blogs. As long as you can gather high volume traffic, there are many ways to make your blog lucrative if you use affiliates or advertising on your blog site.
For first time bloggers there are two sites that have been designed for your first attempt: blogger or WordPress.
Both sites allow you to establish websites with very little programming knowledge or hassle.
Sites like blogger give you a chance to create your own blog, hosted on their server, while giving you valuable information on how to acquire and develop a fan base of loyal readers. Blogger is extremely simple and easy to use.
WordPress, on the other hand, is a little more complex, but through plugins, can be a simple way to create more intricate designs on your blog.
I recommend checking out the site for the initial start up. There are also plenty of tutorials on YouTube that can give you much needed tips on how to establish your blog and direct traffic to your site.
A blog basically does one essential thing, it invites us into the living room of another person – no matter how weird or awkward that person might be. It allows readers to get a first hand account of any topic right from the source.
So you should remember Mark Twain's immortal words "write what you know!" that is the golden rule. When you're highly engaged in a topic you'll be enthusiastic when writing your posts.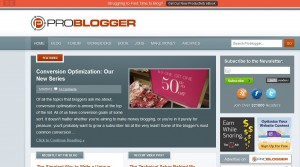 On blog writing, there are so many different kind of blogs and styles that there is really no particular way you should do something. Many of these sites can show you the difference avenues you can take as well as show you how to develop comfortable levels of traffic.
A quick glance under any subject will show you that the internet already has  countless blogs on any given topic, so making sure you have something unique to say is important. How else will you distinguish yourself from the millions of blogs out there?
Besides for Blogger and WordPress there are countless other sites out there designed to help you produce a unique blog that will set you apart from the rest:
Problogger
Problogger is one of those sites where you witness how powerful blogging has become. There is even the potential to make yourself some money.
Also, you'll learn how to get pitched to a lot by companies and organizations asking you to endorse their products. Who knew that you could be a living breathing, walking, billboard for other websites? But you sure can.
Problogger also teaches you the tricks of the trade through articles like How to Write Great Blog Content and Workflow, Motivation, techniques, and Principles of Content Creation. The site itself has some in depth ideas on blog creation which can be used by first time blog creators.
Did you know that blogs can bring in an influx of much needed cash? Problogger has an excellent knowledge of how to direct traffic to your site. Just keep in mind that you don't have to be in finance or write about stocks to make money on the Internet.
Now, if you want to make money there are more sites out there that are dedicated specifically to that.
Lorrelle
WordPress is essential for many bloggers and as an extension of that Lorelle, a site dedicated to first time wordpress users can be an invaluable resource to starting your blogging career. You cannot miss it if you want to learn everything you can about WordPress.
How to make my blog
Another great site is howtomakemyblog a blogging site dedicated to getting your first time blog started. This is really basic stuff, so if you already know enough to set up your own blog, I would avoid this one. But it is an excellent introduction for any noob.
Blogging Blog
And how could we forget the blogging blog ? It's a great way to learn about the lifestyle and financial situations of a bloggers everyday responsibilities. This is a detailed account of the life of a blogger including: income, analytics, resources, successes and mistakes. If you learn best from example, this is a must-see for any first time blogger.
Humor Blogging
For those of you interested in writing jokes, comedy or humorous memes with content, there is a site dedicated to your needs called humor blogging. This insightful website gives you all the basics on starting a comedy blog.
Well that's it our first blog and blog, if you are a first time blogger I hope these sites will help you start a glorious career in blogging.
This is Jerry Gabriel signing off for Blog on Blog