Titles titles titles… I like the title, "Blogs on Beards: Wave That Freak Flag On Your Face"? "Blogs For The Beard-Obsessed"? "Rock Out With Your… Beard Out"? "Ode To The Cheek-Chewbaccas"? "Blogs on Beards: Shavers Need Not Apply"? "You Know Who Didn't Shave? Jesus." So hard to decide.
I've got beard-envy. Not a fan of Freud, but I'd gladly take his facial hair. Do past lives exist? If so, I'd like to think I was a troubled 19th century Eastern European curmudgeon with a Briar pipe and a bushy ginger face-cape to combat the winters of my discontent.
It's tragic that I have never been able to grow a successful beard. Ever. Certain genetic predispositions, like being a woman, have consistently prevented me from getting together with friends to attend a Halloween party dressed as a group of Russian composers (Please, fairy godmother, can't I be Nikolai Rimsky-Korsakov for just one night?). I can't wander around St-Henri without feeling a tinge of envy with every passing beardo on a bicycle. There's just something about the way a beard complements a pensive gaze, or how you know exactly who a person is by well-maintained facial hair. Like Jesus, or Ghandi. Lincoln, or Castro.
I'm not a hairy woman, either, which dashes all my Bearded Lady circus fantasies. And having thoroughly re-assessed the cost/benefit ratio of sexy face-fro vs. decidedly unsexy face-rash, I think I'd rather own a beard than date one. I might eventually turn into an old whiskered lady, but for now I'm relegated to living vicariously through the facial foliage of those lucky to grow them, clicking and sighing every time I come across a really, really good beard appreciation blog.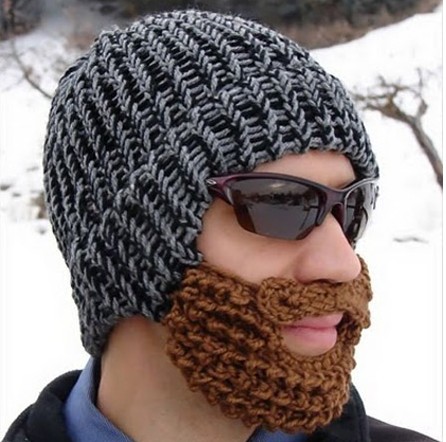 Hold the phone.
Beard appreciation blog?
What, did you think I was the only one who lusts after what she cannot have? Or that our current generation of cheek-Chewbaccas wouldn't be inclined to Instagram their own progress? There's a market for facial hair fanatics, and I'm not just talking about hanging out at antique stores and used bookshops (I mean, I just really like gramophones and cheap books). Hundreds of beard blogs out there, and all it takes is a Google. So, I implore you, allow me to be your beard navigator, through the dark and mysterious path of online mouth-muffs (ew). It just might get a little hairy. (Bah-dum-pshhh).
FUCK YEAH BEARDS
For the straight-up, no bullshit, don't-waste-my-precious-gaze-on-text admirer. Fans send in every-day photos of themselves or people they know sporting scruff, and it gets posted on the site next to minimal captions. This blog has everything: chin close-ups, ginger whiskers and plaid shirts, beards in hats, beards holding babies, shirtless Captain Crunch in a shapka wielding a hatchet… Fuck yeah, beards.
PUT YOUR BEARD IN MY MOUTH
Did you know that glittery pop-music performer Ke$ha has a tumblr devoted to beards? I don't really "get" Ke$ha's music (I've never, not once, woken up feeling like P. Diddy), but homegirl takes the time from what must be an exhausting life of next-level partying and releasing vaguely feminist rap-rock singles to stick dudes' facial hair in her mouth and post beard-gnawing pics on her Tumblr. Respect.
I Made You A Beard
What do you get when you cross a beard-envyin' chica with arts and crafts? Yarn beards aplenty! On Erin Dollar's blog, you'll find fun pics of her many-coloured fake facemops, illustrations of beards drawn by her and her friends, and links to other beard-centric web pages. Her posts are now fairly sporadic, as she has since expanded her creative outlet outside the realm of beards, but femmy Blackbeard fetishists can still order a custom-made beard of yarrrn! (You can have that line, it's yours, don't worry about it.)
THE BEARDED
Sexy, well-dressed, long-whiskered men, gleaned from the far reaches of the Internet and compiled on The Bearded. It's like The Sartorialist, but less bougie and more bad-ass. Ladies, time to go fantasy boyfriend-shopping – just don't forget to moisturize after fake-making out with all the hairy eye-candy.
THE BEARDLY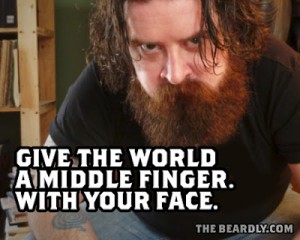 Captions aren't just for cat photos and shitty inspirational posters anymore. The Beardly describes itself as "observations about beards and the men who tend to them", but what it really means is "slogans for the beard that needs constant validation for his manliness". They might not have office jobs, but they know that "SOME MEN BUILD A LEGACY. REAL MEN GROW ONE."
BeardLife.Net
General interest Beard Blog. They have top 10 lists for Best Beards, videos of sexy cars and the beards who drive them, infographics about how facial hair is perceived in society, tips on grooming, profiles on men with ass-kicking chin-plumes, and way more. It's a Beard Life.