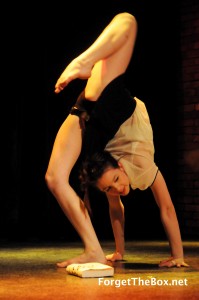 When we arrived at Le Belmont for the Blood Ballet Cabaret's season closer Freshman Finale, there was an exam waiting for us in the form of a Hilroy notebook, appropriate seeing as this was a high school-themed show and this group really works its themes. There was only one question on it: "Write or draw off favourite BBC moment over the past year."
At first it didn't seem like the hardest test I've had to take – at least the writing part; drawing is another story. Then I thought about it, and realized that it wouldn't be so simple to complete after all.
With an ever-growing roster of burlesque dancers performing in increasingly original numbers, choosing one top BBC moment might be a tough call. Then once you consider that their shows have been getting better, you realize that the favourite moment may very well be in the show ahead.
Turns out there were plenty of options to choose from. There were the clever and unconventional numbers which still remain faithful to the show's theme. Lady Josephine's reverse-strip that somehow made books on tape sound sexy (who says you need music for burlesque) stands out. As does Sucre a La Creme's tribute to the typical high school job with a McDonald's dance. You want fries with that? Um, yeah.
Then there were more conventional (if you could call it that) but still damn hot numbers like Fuhrious Nina's ode to gym class and Lady Libertine's sexy sleepover party.
There was also Petite Pandora stretching herself in unimaginable ways as only a contortionist can while doing her homework – and all on a chain that doubled as a swing. She also performed a tribute to mascots dressed as Picachu throwing stuff at the crowd. Now this number wasn't burlesque in particular – or pretty much at all – but it was cute as hell and, as emcee Sherwin said, stripping out of a Picachu costume would just seem wrong.
And what ode to all things high school would be complete without The Craft, featuring troupe leader Miss Bloody Maryanne and the dangerous Pyrometheus troupe. The hottest of the elements (an appropriate choice for this show) played a central role in the Freshman Finale, starring in four pieces.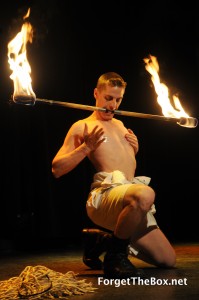 The third flammable number also led to two of the coolest dealing-with-shit-that-goes-wrong-onstage moments I've seen in a long time. When Julian accidentally spun his flame a little too close to a ketchup container filled with corn syrup hanging from the rafters,
the gooey substance covered the stage. Julian kept up his performance, which was daring enough, but now made all the more complicated by a very sticky situation under his feet.
Later, following Eve-Olution's debut as a chastity club president turned raunchy rebel, Miss Bloody Maryanne closed off the show with a hot number that was supposed to end with her covered by the "blood" that was prematurely released from the ketchup container earlier in the show. Instead, she stopped the song and informed the audience that she would be getting blood from "a better place." Won't go into too much detail here, but it was an improvised save that was in perfect keeping with the freewheeling spirit of the show.
As the group came together for a class picture, I thought two things: I was happy I waited until the end of the show before filling out my test, and even though I'm excited for summer vacation, I can't wait for the BBC's sophomore year starting in September.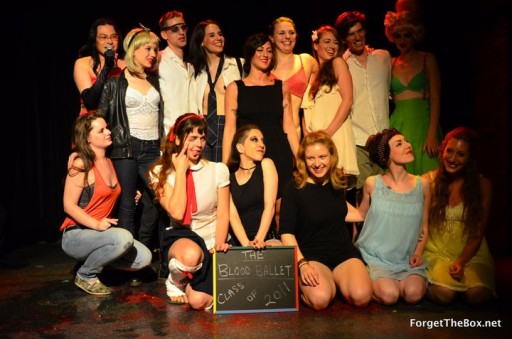 Need some visualize stimulation from the Blood Ballet show? See more of Cindy Lopez's and Chris Zacchia's photos on ForgetTheBox's Facebook page.