I think I'm in love! In love with seven women and a couple of dudes. Well, maybe love isn't the best word to use. It's more like lust. The kind of lust that takes over your whole being for a few minutes then evaporates instantly, only to be replaced by another temporary fixation.
If this is the kind of fantasy you're looking for   you should check out the Blood Ballet Cabaret. (Holiday show tonight! Dec 19th) This relatively new burlesque troupe is quickly finding it's spot on Montreal's burgeoning burlesque scene and…screw it, I'm not going to bore you with "journalism" right now, instead I'm going to tell you straight out that the performers in this show are both sexy and smart.
Sexy? Well, if attractive babes with moves isn't sexy, then I don't know what is. Smart? Well, it takes brains to integrate Remembrance Day (I'm talking about their last show on November 11th) into a striptease, just as troupe leader Miss Bloody Mary-Anne did. She made it hot while at the same time maintaining respect for our fallen soldiers, and that's just one example.
Put simply, this show is smoking. For much less than what a trip to the strip club costs, this audience was treated to so much more. Ever wanted to see Cruella de Ville get nasty with a Dalmatian? Miss Bloody Mary-Anne and FUHRious Nina apparently did and showed us what that would look like.

And just when you might think this is an estrogen-only party, along comes MRST SSTR. He started off his performance decked out in macho white trash chique, then performed a reverse drag strip to become quite the elegant lady. Now, I'm a heterosexual male through and through, but if I ever had to play for the other team, then he would probably be my second choice, after David Bowie, of course.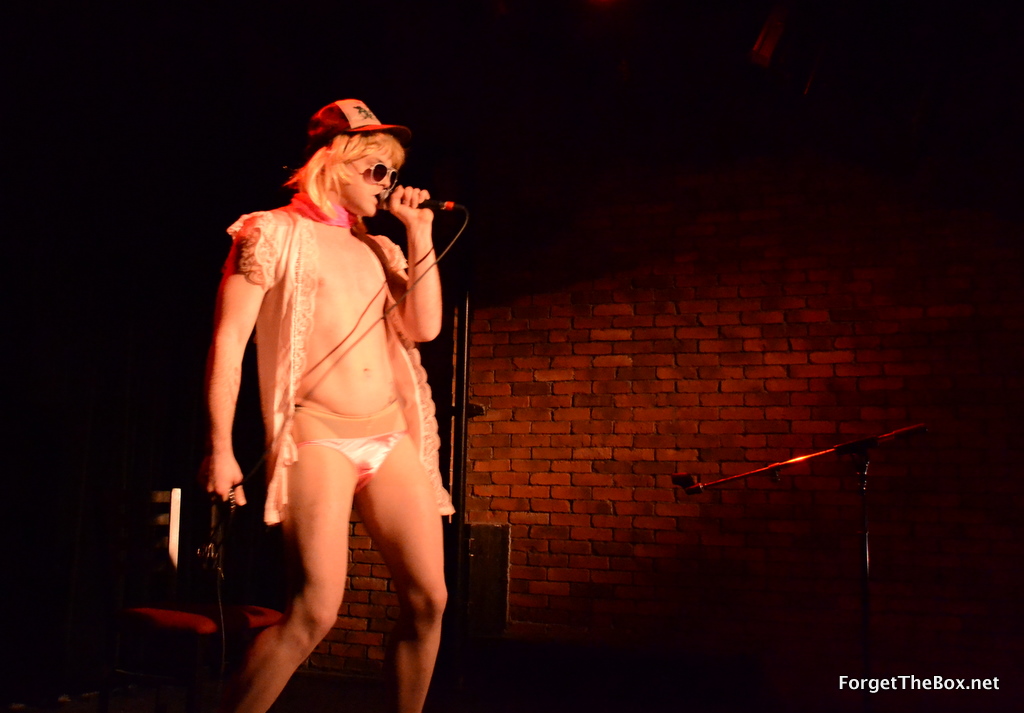 It wasn't all strip and reverse strip either. The live music courtesy of Madeline and Marillis soothed our overexcited mind about as much as dancer and singer Rococo Cane's live operatic styling's woke us up. Fire spinner Esmeralda Nadeau-Jasso dazzled the crowd with flaming hula hoop acrobatics and there was even a contortionist.
Contortionist, Brianna Darwin may very well be the highlight of the show for me. Think about that for a minute…in a show where several sexy women took almost all of their clothes off, the highlight was the one who kept her clothes on. She bent in quite unimaginable ways both onstage and in a ring suspended above the crowd, all the while keeping a very stoic and sultry expression on her face.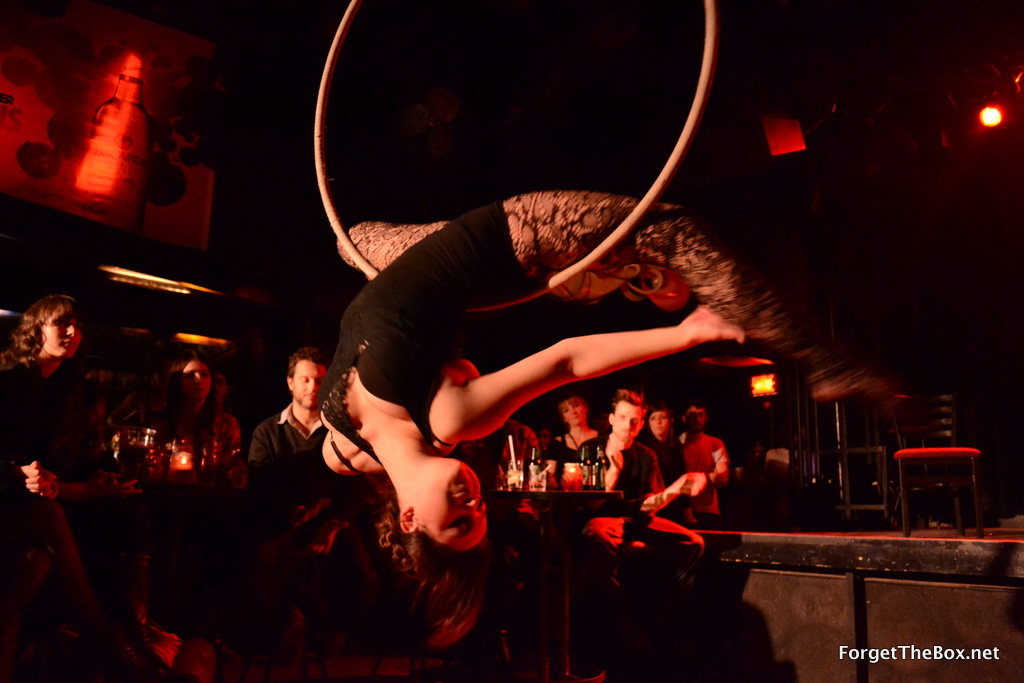 While another, more seasoned reviewer may take this space to comment on the acrobatics and training involved or the relevance of such an act in such a show, as I said earlier I'm a heterosexual male, so my comment is "gah" & "drool".
If there was a way to sum up my Blood Ballet experience, it's I wanna go again, and I have the chance to do just that and you do, too, at their Holiday show: this Sunday, December 19th at 8:30pm (doors 7:30pm) @ Le Belmont, 4483 boul St-Laurent. $10 at the door.
photos by Chris Zacchia