Last Friday, I had the pleasure of meeting up with local rock trio Alexei Martov who were fresh from their live performance on CJLO. In light of their upcoming show opening for Vancouver garage rock duo The Pack Ad, we chatted about recording, their evolving sound and what they are listening to these days.
Alexei Martov is Martin Bradstreet (voice, keys, guitar) and brothers Matt (bass, double bass) and Jonah Dorfman (drums). Since our last interview a year and some ago, Alexei Martov has been quite the productive act playing a slew of shows. Just last week they played a show at The Bitter End in New York City and  are opening this Wednesday at Casa Del Popolo. They've also recently released a live off the floor video by director Ryan McDowell and talented sound engineer Justin Wiley. This "Night Drive" video was shot in Alexei Martov's practice space and studio where they are hoping to shoot other bands for a live video series.
Alexei Martov has been working industriously on their first album which they recorded in Chicago with Steve Albini, known for recording Nirvana (and being friends with Lil Bub). During their days at Albini's studio, Electrical Audio, Martin, Matt, and Jonah were playing ten to thirteen hours a day an experience that the three of them found transformative:
"It allows an awareness of playing music outside of yourself," describes Matt, "Whereas normally its like a first person interaction but to sit down and listen to what you just played and then go back and play it again and start all over again. You relate to it at once as a performer and as a listener in a way that is very educational."
Although they had already organized to record with Albini, Alexei Martov decided to record their high-powered single, "Way of The Crow", with Howard Billerman at hotel2tango.
"You can't not record a track like that when you are ready to. Even now, to get into the state of mind, the level, where the track was recorded in is difficult. Just with that song. To get into the state where you basically puke your vocal chords on stage," Martin explains, "When we recorded it, the takes were okay but they didn't get really good until I didn't have anymore left and then they started to get really good. I'm glad we did it at that time."
In the past, Alexei Martov's tunes fell under the blues rock label, a moniker which at the time felt appropriate and was easy for people to conceptualize, explains Jonah. Their new material seems to be moving towards the psychedelic alt rock realm with their sound opening itself up to a more diversified audience.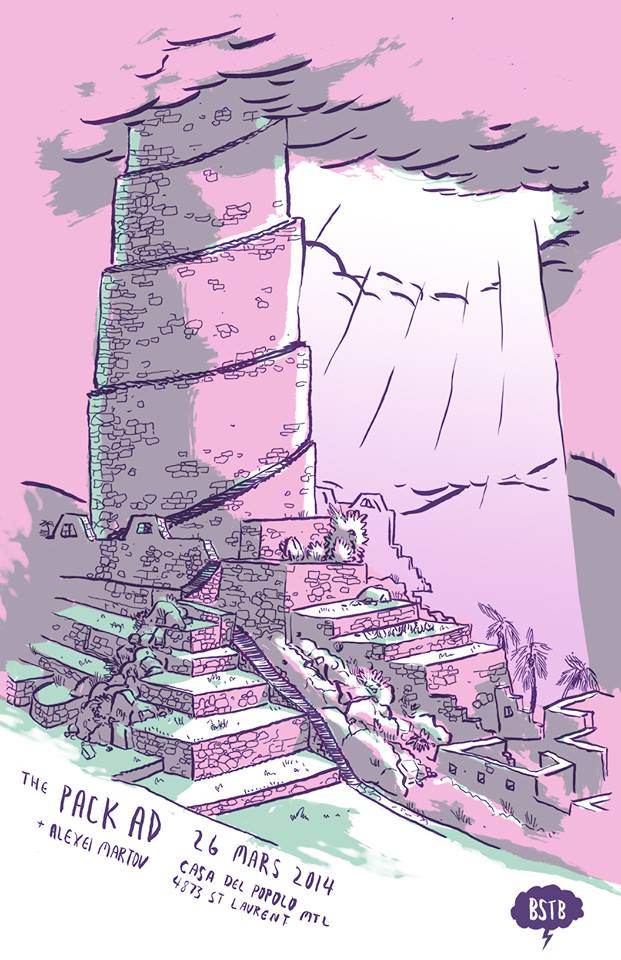 "Now we are getting into a territory where we can see how we interact as musicians together and what are the more interesting aspects of our sound," Martin illustrates. " I think that the biggest thing is that there are more boxes that we can fit within now. In the EP times if you wanted to listen to a high energy blues rock psychedelic song in the vein of Hendrix we could give you something in the vein of that. But if you weren't in that mood, we didn't have much for you. Whereas now, we can go a lot of different places, a lot of different moods."
These days, Matt has been listening to MF Doom, Derrick Hodge's bass playing, the Robert Glass Experiment who collaborated with MF Doom, and Yo-Yo Ma. As for Jonah, he usually listens to old blues and folk and lately to Townes Van Zandt. He also had a great time listening to The Pack AD in anticipation to their Wednesday show. Martin has been listening to John Scofield, Medeski, Martin, Wood, the Esbjorn Svensson Trio, and the Silver Mt Zion Memorial Orchestra. Furthermore, Martin has been working on his swing pi
ano playing with pianist Guillaume Martineau and thus is listening to a lot of big band music. Not long ago while  on the road, Alexei Martov listened to Duke Ellington's The Far East Suite. Jonah describes this experience like listening to James Bond trailing somebody through the streets of Marakesh.
"When we go on tour we go on long drives we often pick something conceptual – a set of albums – to think about and talk about. It becomes this narrative of and intensive conversation about music," Matt recalls.
Alexei Martov will be going on tour in May and plan to tour pretty much continuously for "as long as we can keep it up," says Martin.
Catch them this Wednesday March 26 at Casa Del Popolo. Get your tickets here.
Advance tickets 10$ / At the door 13$