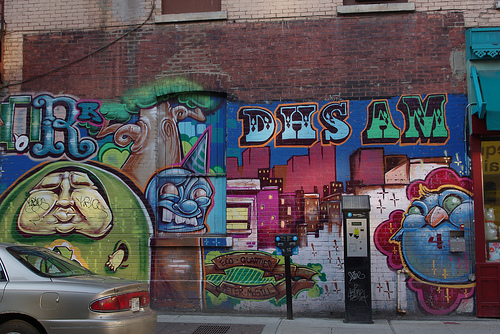 Walking into Notre-Dame-de-Grâce's Coop La Maison Verte on Monday evening, I enter a collective vitality. Children playing, parents sipping wine or coffee, friends, neighbours greeting each other.
We watch the 1983 documentary Style Wars on New York street culture and subway graffiti art; discuss ramifications of graffiti writing for our society; and view images of Montreal graffiti taken by Fiona Keats, the organiser of the evening which is part of the NDG Arts Week.
In chatting with some of the attendees, I am asked what brought me to the event: Do you live in NDG? Are you an artist? The answer is I am curious, and for someone to offer an evening about exploring graffiti, I would certainly not miss this.
Of the conferences and events I attended, Monday's Exploring the Roots of Graffiti – Film Screening & Photography exhibition exceeds my expectations and leaves me in awe of this art.
In a city, you see graffiti. Do you wonder where it's from? Do you see it? Do you read it? Do you understand it? Do you see who did it? Is it pleasing to your eye? Does it make you love the city more? Do you relate to the expression on the wall, on the bridge, on the train?
Graffiti ignites wars and turf disputes between the perceived and self-proclaimed owners of space and us. You want to draw on a wall, on the street, on a train, on an abandoned building, can you? Are you allowed? Who decides?
Commencing with Style Wars, the film presents young New York City men who are passionate, well-spoken, intelligent and determined. They bomb, mark, they tag, they throw-up, and they create pieces. Bombing is Graffiti writing. "In New York City, it's a vocation passed from generation to generation," tells the narrator.
Throughout the documentary, we see graffiti writer, Skeme, calmly explain to his disapproving mother:
"Don't you doodle when you talk on the phone?"
"No, I don't doodle. What does this have to do with what you do?"
They want to see their name. They want to make their mark. They want to belong.
New York City's Mayor Ed Koch (1978-1989) says from the get-go that graffiti is not art, it is a crime. These are Graffiti vandals. The City's stance was to fund and launch a public campaign including a television advertisement featuring two actors expressing how uncool it is to do graffiti; a poster saying "Learn from champs, don't be a chump. Make your mark in the city, not on the city;" as well as to place fences topped with razor-sharp barbed wire and aggressive looking German shepherds around train yards where Graffiti writers produced their work. When people voiced concern on the dogs potentially biting people trespassing, Koch replies: "That's the point, isn't it?" Koch adds that wolves may be a better choice as "a study shows that wolves are sufficiently threatening and have not been reported to bite."
As we share thoughts on Style Wars, I ask how graffiti writing can propel City officials to pay for fences with barbed wire, guard dogs, and silly public ads?
"Graffiti is a quality-of-life offense. It is destroying our lifestyle and defacing public and private walls," said NYC mayor Koch.
If public space is public, who decides?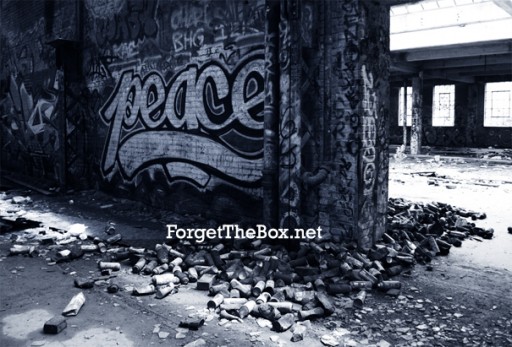 Paul Cargnello, lyricist and social activist, and part of the DJ duo at Monday's evening, shares his perspective: "A company can pay to put its logo in a public space, but a Graffiti writer can't write in a public space. Nobody asked me if I want to see a Jean Coutu sign. I'd rather see street art any day rather than a company logo."
Fiona Keats organised Exploring the Roots of Graffiti inspired by the NDG Food Depot's legal wall where local graffiti writers could create pieces without being arrested. "It's a beautiful wall with vegetables growing in front of it." Due to mounting pressure from neighbours thinking the youth traveling to draw on the wall were gangs, the wall is no longer. "Something deeper is happening," prompts Keats. Bicycling every day in the Montreal summer, Keats captures 600 Instagram photos of what is being expressed. Nourished by reading doctoral theses on graffiti and speaking with Graffiti writers, Keats shares at Monday's gathering that graffiti writing is about finding who you are, what it feels like to see your name, to be part of a crew, a tribe, about mentoring and collaborating, and about rites of passage, something lost in Western culture, Keats feels.
In the discussion at la Coop, Keats adds that forbidding Graffiti is about control and privatization of property. Fascinated by the human spirit and primordial needs, Keats says that Graffiti shows what we don't want to look at. "Clean the trains! Clean the walls!" Graffiti serves to challenge cultural perceptions. "Graffiti disrupts the status quo to reach equilibrium."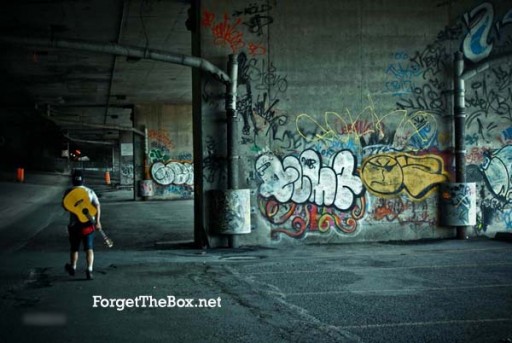 * Bottom three photos by Iana Kazakova