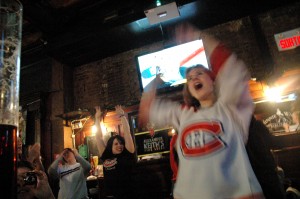 The Montreal Canadiens had a extra couple of days to regroup and return to the form they played in the first two games. Even Carey Price called out his peers for playing loose and unprepared. The Habs did look good for game four, it must have been the Fruit Loops they ate for breakfast (thank you Hal Gill). There was no room for more mistakes, just ask Benoit Pouliot in the press box, replaced by Jeff Halpern.
I returned to the beating pulse of the action downtown. I went to McLean's pub, a packed house of fans pre-drinking and rocking out to Radio Radio before heading to the Bell Centre.   Meanwhile the rest of the fans were pumped to soak in as much chicken wings and beer as possible. I never had to play defence before in order to reserve a table for six people. Take a page out of my playbook, Jaroslav Spacek!
Fans were hoping the theory of the first goal would take effect and Montreal would feel comfortable with a 3-1 series lead. New Hab Brent Sopel scored his first of the series and fans felt at ease that game 4 was going to go Montreal's way.
Mike Cammalleri and Andrei Kostitsyn   with goals a minute apart got the bar going crazy. Fans dancing, waving their hands in the air and believing that the Habs were back in the series. "Break out the 3-litre pitcher, we're going to win tonight!" Or so we thought.
Knowing that Hab fans are hardcore for their team, Andrew Ference flipped the finger to the crowd after Boston got back in the game. Sometimes I want to do that to the bandwagon "fans" but not cool. It was an expensive goal, $2500 in league fines.
It was a game of cat and mouse where Boston kept taking Montreal's lead, Carey Price was busy that night.   PK Subban brought the city and bar back to life. This was going Montreal's…wait, Boston just scored. A collective AUGH hits the bar. Welcome to overtime.
Time to text and twitter my favorite playoff game: "Guess the Overtime winner, win a beer." Simple game: pick who you want to score and I will buy the winner a beer. It was a tie between Subban and Kostitsyn when ex Hab Michael Ryder decided to play spoiler giving his version of the finger by notching his second goal of the night. Now, why couldn't he play like that when he was playing in Montreal?
So now, the lead is gone, series is tied. No team has had any luck on home ice. You'll be thinking that game 5 looks like a sure win. Remember that one goal theory: think again.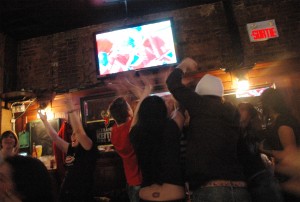 What the Habs have to do in game 5: Carey Price has to refocus and forget he let in five goals. Tim Thomas is now in the zone, it's been a different scorer each time, however the good news is that the Habs have been scoring. The advantage for Montreal is the penalty kill, Bruins   have had no luck on their power play. It's going to be barn burner hockey, winner take all for the next couple of games. This is going to be fun.
Shout out of game 4: Shout out to the staff at McLeans and all the bars downtown. It's a busy time and it's great that everyone wants to watch games downtown, however understand that there's a lot of people so be patient and always tip your waitress or bartender and don't forget "please" & "thank you." Game time should always be a good time.