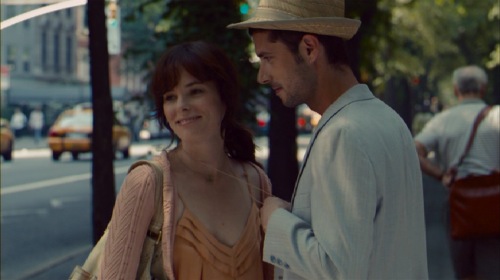 BROKEN ENGLISH (2007)
Starring:  Parker Posey, Drea De Matteo and Melvil Poupaud
Written and Directed by: Zoe R. Cassavetes
Distributed by: Magnolia Pictures
97 minutes
Are we really only complete when we're in love? Are we spoiled goods if we don't find "the one" by a certain point in our lives? These are the questions asked by writer/director Zoe Cassavetes in her delightful feature Broken English.
Nora Wilder (Parker Posey) is a thirty something New Yorker who has plenty of things going for her: a job at a swanky Manhattan hotel and great friends like Audrey (Drea De Matteo). Although something Nora doesn't have is a relationship. Instead she has a sea of men in her life who only see her as a friend and the rest are one disastrous affair after another. "Nora doesn't get the game" Audrey's husband quips in one scene. "She's too available. Men like the hunt."
Some men might not appreciate Nora's openness and vulnerability, but what makes Nora such a great character is that she never apologizes for following her heart. Indeed for someone who's only seen Parker in commercial Hollywood films where she plays a snarky bitch (Dazed and Confused, You've got mail) it was pleasure to see her play a sweet, unassuming character. Besides wanting to raid her too cool for school New Yorker wardrobe, I also love this character because Nora is a reminder that even the best people need a little more time than most to figure life out.
After some painful dates, including an amusing sequence with Justin Theroux as a douchebaggy actor client from the hotel,   Nora meets Julien (Melvil Poupaud). Completely adorable and French, Nora should be thrilled, right? Not exactly. Julien unfortunately, is only in New York briefly to work on a film. Nora quickly becomes confused and heartbroken when she realizes that the first man she's had a real connection with in a long time lives on a different continent.
What's a girl in love to do? Well, when your life takes place in a movie, the answer is run off to Paris with your best friend to track down the man of your dreams. Obviously.
For a film that depicts some of the brutal realities of the dating world, I was not turned off by the final act taking place in the streets of Paris. We've all watched those sequences where the eager American jets off to Europe to declare her love and it's usually completely gag inducing. Not here.
Casavetes presents an ending that manages to be romantic yet honest. Nora and Julien are such likeable characters as well it seems unfathomable that people like this don't deserve to end up happy together, if only in the movies.