THIS IS OUR YEAR!
I am a Buffalonian, I have always been a fan of the Buffalo Bills, our NFL team.
Since I was a young child I remember going to all of the games with my Dad and Grandma. She was the biggest fan ever, yelling at opposing fans and almost getting us into fights. It was beautiful. We gave up our season tickets when she passed away, but I still take the chance to bond with my dad over a football game whenever we get the chance.
We are famous for white out amounts of snow and insanely dedicated fans. The Bills Mafia started out as a hashtag and defended Stevie Johnson on Twitter. Now they not only pound beers and smash tables they also do fundraisers and give money to Roswell Park Cancer Institute.
It's always been a crazy scene. I can't imagine the awesome times in the early 90s when we went to four straight Super Bowls.
That time is what us fans call The Glory Years. It must have been a heartbreaking and wild ride. I was so young that I thought our team was just supposed to be in the Super Bowl every year.
The team means so much to Buffalo. Both Donald Trump and John Bon Jovi were unsuccessful in buying the team after owner Ralph Wilson passed away several years ago. It is rumored that either of them would have moved the team to Toronto.
Too bad P Diddy wasn't in the business yet, I hear he wants to stir up the league and buy the Carolina Panthers. He would make Colin Kaepernick his QB and take a stand against racism. Hope he does it!
Alas Terry Pegula bought the team (and the NHL Sabres too) and kept them in their hometown. I'm not the biggest fan of Pegula because he got his fortune from fracking, but that's another story.
Now we are doing ok, maybe we will get a wild card spot in the playoffs, more hope than in years. But our fans are number one with a bullet.
Even if you are not into football, you can find amusement in these jackasses. The internet is more obsessed with them than the people of Wal Mart. Nobody circles the wagons like these crazy beautiful bastards.
Tailgating is an extreme sport here. Everything Zubaz, team jersey of choice and maybe a foam chicken wing hat as a uniform. The game is chugging beers in creative ways like jet fuel, open sex acts, and generally behaving badly.
Even though now we haven't even been to the playoffs in over a decade, the Buffalo Bills have the most wild fans in the league. They are the self proclaimed Bills Mafia and are in fact in a league of their own as far as super fandom goes.
The tailgate and shenanigans outside of New Era Stadium are more exciting than the plays on the field. It is superb and completely next level. "Buffalo Fucking New York, If you do not bleed red, white, and blue then get the fuck out!" is a t-shirt that I have that really captures the spirit of these people.
These people are savage! Going to a game is like watching National Geographic Channel and getting to see wild and unusual animals in their natural habitat.
Alcohol is the key to success at a Bills Game, not just a little, a LOT, like black out drunk is what we are going for here. It is not out of the ordinary for a Bills fan to body slam a folding table that is on fire (or throw their girlfriend through one).
Beer bongs and other funnel apparatuses are used to lube up the fans and get them ready for greatness. Some of the best moments of fans in action have included (but are not limited to) blowing coke off of each other and fucking in the stands (or in the parking lot or the bathroom), chugging beers down an ass luge,  flaming and non flaming table smashes and throwing their buddies through stuff. The occasional boxing match and a lot of public urination are all common occurrences.
When I tried to use the restroom inside the game it was closed because two "extremely drunk" girls had puked all over it. Stay classy Buffalo gals! It always amazes me what people are capable of.
The last game I went to with my Dad was against the New Orleans Saints. The Bills were murdered. They beat us in every way possible. Then it happened. A tattooed angel in the nude ran over 100 yards across the field only to lose his footing and eventually be tackled by security. Check out the video.
He ran for more yards than the Bills that day. I couldn't believe my eyes! My dad was a convicted streaker in the 70's so he just laughed.
This was way better than when someone threw a dildo on the field. It was a perfect moment. Tristen Lambright is now a Buffalebrity. He is part of the local roller derby scene and known as Señor Weiner. The photos caught of him were the best. His huge smile made it all worthwhile.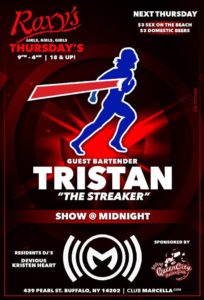 I couldn't believe it again when about a month later he was going to be the guest at a night I was performing burlesque. I thought it was funny that the internet was so obsessed with his tattoos so I re-created them on two nude suits with beautiful plushie peens made by my friend Jess Widmer and my bestie's actual hair for realism.
The sweet tats included a hot dog with a sombrero on roller-skates, a mushroom cloud with WWJD, a Dead Milkmen cow, and a pinup with a dino head. The fucked up thing is that I didn't have to look far to find CLOSE UP zoomed in photos of all his tattoos.
It's bizarre what the internet runs with. I don't know what is weirder, that I looked for the images or that they existed to begin with. I wonder if he is planning to get a Bills tattoo in the near future?
After the show we met him and he did notice that we copied his tats. I was proud lol. My bestie and I both became the streaker! We were the ultimate creepers. The song mix started out with The Bills Shout song and went into Born to Run by Bruce Springsteen and ended with Fight for Your Right to Party by the Beastie Boys.
All out insanity ensued as we ran around the club, weaving in and out of people laughing only to both get tackled by our friends in security gear on stage. Life is wonderful! I was out of breath for the rest of the night after that sprint.
This guy is literally becoming (in)famous just for running around naked. I have been naked on stage for 10 years. That means there is hope for me. At least for local stardom.
It's not all fun and games though. I did read some comments that made me think from a more feminist perspective. A woman commented that she didn't ask to see his dick and that she is sick of cis white men thinking they can just do whatever they want.
I agree! Glorifying someone for exposing themselves is wrong and weird, but I really do think it was all just in fun, there was nothing sexual about the jaunt. I am a proud nudist and love doing the naked bike ride, nude is not lewd! Everyone has a naked suit.
He was so far away from the crowd that nobody could really get a good look at his frank and beans.  Lewdness was the final charge. He did face a hefty fine and legal fees as well (even though a local bar threw a benefit to help pay the fees).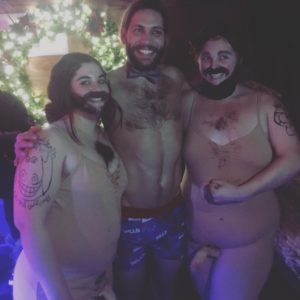 When I met him after my show he admitted that he was super drunk and that it was a total impulse move to run the field naked. He was Buffalo winging it!
That night his package was tightly wrapped in Bills print boxer briefs. The harder core fans are just jelly that they didn't do it first. So many bros dream of making such a splash on the big field but only one man dared to do it.
At the end of the day he will just go down as being the Don of the Bills Mafia, the happy naked guy wearing nothing but a smile and his tattoos as he ran to freedom (well, as he ran to being tackled, rain coat wrapped, and shackled). I thought the black eye was a bit much, give it up for police brutality.
No matter how well the Bills do, there will always be dedicated fans out there one upping each other and streaking, slamming through tables, blowing chunks, and blowing lines for the rest of us.
Let's go BUFF-alo!