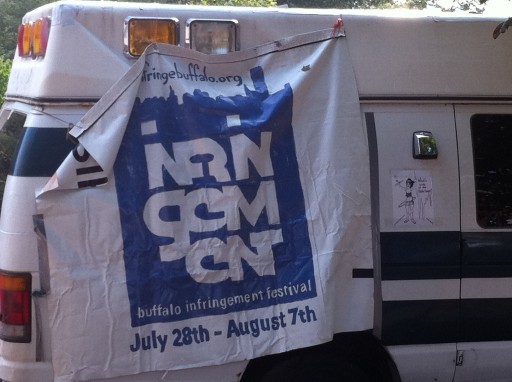 As the bus takes me back to Montreal away from a weekend away from the ordinary at the 2011 Buffalo Infringement Festival, one thought seems to dominate my mind: next year, I'm going to go for longer. I've been for longer, in fact last year I spent a little over a week at the BIF, but this year circumstances limited my time there to four days. Four wonderful days jam-packed with underground art and chillin in the park, sometimes both at the same time.
A mere ten minutes after arriving in town, I was in The Bend watching Infringement cab driver (yes, the fest has its own cabbie), visual artist and now spoken-word comedy artist Scott "Skitchy" Steele perform his solo work Going Forward in Reverse. The show began with a few anecdotal stories from Skitchy's life as a cabbie, then got a bit sci-fi before getting into what was for me the piece de resistance: a cavalcade of puns. Now for some this might be a form of pun-ishment (get it), but I on the other hand love a bit of cheesy wordplay, even if I've never been able to muster up the courage to devote a whole show to it.
Right after that, I found myself whisked away to Days' Park to catch Subversive Theatre's newest offering Guillotine: Heads Will Roll. Subversive had left the comfort of their very own Manny Fried Playhouse to the wide open of the park, but their knack of theatrically connecting the classic with the current was ever-present as they tied the current US debt crisis with pre-revolutionnary France.
I found myself back in the park a few more times during the fest. I caught the incomparable Melissa Campbell's Hula-HoopLA performance where she maneuvered not only one but multiple hula hoops at the same time. I also enjoyed the Pyromance fire show featuring the returning Kindle and Infringe dancer Leslie Fineberg in a special guest performance on closing night. I was even part of the small audience that got an impromptu encore performance of Molly Burhans' tribute to Sapphos that she had premiered at the burlesque show earlier in the festival.
The park also played host to a portion of Car Stories, the interactive theatre piece that started the Infringement back in Montreal. I performed in this show (full disclosure, I'm both an Infringement participant and co-founder of the fest in Montreal) along with Buffalo performers Mike Sentman, Ashley Bobbett, the aforementioned Skitchy and first-time infringer Carly Weiser. Coming up with the concept which was nautical-themed (I got to play a dolphin) and then executing it in a matter of a couple of days was thrilling and doing it with this group of people was great!
Meanwhile fellow Montreal infringers Donovan King and Karen Spilak were in town with a different show called Infringement Therapy. The show is exactly what it sounds like. The audience goes through three types of theatrical therapy culminating with a chance to eliminate all oppression   as seen in this video shot in organizer Curt Rotterdam's backyard:
I also caught Toronto-based hip hop artist Brownman performing at Nietzsche's, Anal Pudding member Pam Swarts play an electronic show at DBGBs, improv troupe Cat Venom at Rust Belt Books and some backyard cinema in the (where else) backyard behind SP@CE 224. Both films I saw were low-budget Buffalo-made flicks. The first was a drama and the second a documentary about the loss of a performance space simply called The Loft.
While I missed the first-ever Infringement Cicus and Infringement FlashMob as well as the Burlesque night, I did catch the zombie party. Some of the liveliest undead I have ever seen roamed up and down Allen Street the whole night.
What I found interesting was that aside from the car tour of Buffalo provided as a bit of hospitality to us Montrealers by poet Josh Smith (thanks Josh), I spent the rest of my time in Allentown. Now Allen Street from Elmwood to Days Park is, without a doubt, the epicenter of Buffalo Infringement, but the fest does run shows all across town. I guess this year there was just such a strong vibe in the area that I felt compelled not to wander too far. The random street party that seemed to pop up every night, musicians and all, definitely played a huge part in it.
Maybe next year, if I manage to make it down for the whole fest, I'll venture further once again.
Regardless, this year's infringing was a very compact experience for me. Four great days that I wouldn't trade for anything. By the time the Iffy Awards rolled around (I won a couple, yay) I was tired but happy. I had missed my regular Soapbox column on this site so I made a video instead.
I think it pretty much sums up the vibe at this year's BIF: