I love Horror films. The good, the bad, the B movie, the shitty made for television flick that plays at 3:00 am on a Friday. I'll take 'em all, slasher films especially. I spend my summers at the Fantasia Film Festival and plan to do so for the entirety of my time living in Montreal. I also love Sci-Fi films and anything geeky, dark, quirky, and full of bizarre technology. Situated? Great, let's talk about the movies:
Cabin in the Woods, the long awaited project by Joss Whedon, opened this weekend in theatres all over Montreal. For those who do not know of Whedon, he is the creator of Buffy the Vampire Slayer, Angel, Firefly, Dr. Horrible's Sing-Along Blog, and the writer and director of the upcoming Avengers (2012) film. All the basics that have shaped my teenage and young adult years. An impressive resume indeed. The director of Cabin in the Woods is Drew Goddard who is best known for his screenwriting collaborations with Joss Whedon and JJ. Abrams and having written the monster flick Cloverfield (2008).
The film opens with Steve (Richard Jenkins) and Richard (Bradley Whitford) playing two corporate joes getting ready for their upcoming big project – which we are quickly told involves monitoring six friends going on a trip to a cabin in the woods. Steve and Richard joke around, prepare the office betting pool, the usual office stuff. Except, not really. From the moment the title smacks us in the face, it is clear that this film is going to take us to unexpected places.
The five youngsters headed to a cabin in the woods are the hesitant good girl Dana (Kristen Connolly), pretty boy jock Curt (Chris Hemsworth), mysterious newcomer Holden (Jesse Williams), fun time girl Jules (Anna Hutchinson) and stoner philosopher Marty (Fran Kraz). The characterization is interesting and complex in a way that is not so obvious at first but increasingly so. The characters are all memorable and multi-layered and you find yourself pulling for them as they are mutilated and tortured – physically and mentally.

Whedon and Goddard show their love of the Horror genre in this film and have you thinking that perhaps this film was inspired by conversations the two had while hanging out smoking weed. I mean, how else could people come up with some of this stuff? Bringing tongue-in-cheek meta elements that at times approach the overly meta but overall was quite pleasing, the film speaks directly to those horror film junkies while remaining accessible to a more mainstream audience. One of the major sour notes for the film for me was a displaced "clue" about the true nature of the film world delivered by Amy Acker, who plays a corporate lab assistant to Richard and Steve. I may be biased however because I didn't like her acting in Angel either. Some of the cameo appearances from actors who have previously worked with Whedon are a fun source of reference to his work but can also be a source of distraction at times.
When a film boasts in its trailer that it will "reinvent" a type of film and has a major twist, chances are it is full of hot air. This is not the case, more like all kinds of mind altering heart pumping mist. Is this a perfect film? A little short of that. Does that matter? Not at all. This film had me jumping, laughing, screaming, anticipating, and even days later, reflecting. I'm going to go see it again this week. Hunger Games ain't got nothing on this. Good job boys, good job.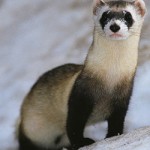 4/5 Feral Ferrets