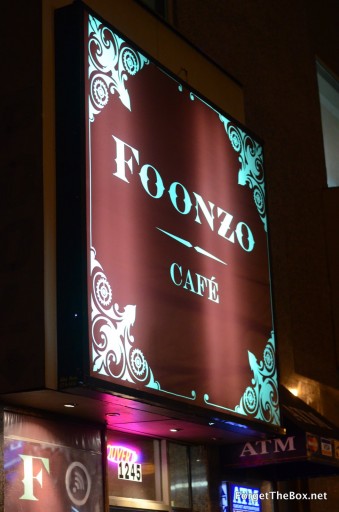 What would you say if I told you that there was a place you could play boardgames, video & arcade games and pinball totally for free. And it has beer. And cheesecake.
It would be a little like dying and going to geek heaven, wouldn't it?
It's real, and it's in Montreal.
For just a shade over a year, Cafe Foonzo has been home-away-from-home for the various breeds of gamers in Montreal. And we couldn't be happier.
Foonzo is in the basement level of a mid-rise on Drummond Street, and when you get down the stairs and through the heavy fire-door, it's as if you'd stepped into another world.
The walls are decorated with gorgeous pop-culture art and colourful, frolicking video game characters. A dessert case beckons from the bar. There are turtles (!!) splashing around in an aquarium. There is the cling and clash of pinball machines, the muted war of digital warfare and the impassioned groans and cheers from brave Settlers of Catan. Truly, this is a place of wonder.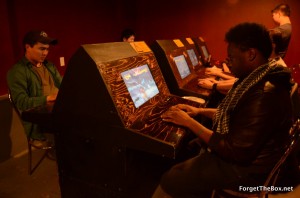 To your left is a cafe and bar, several good-sized tables, a manga and comic book shelf, and a couple of turtles. Further on are real antique pinball machines and then the coup de grace is are several custom built gaming stations for shooting games and RPGs (Fighting games?). The other whole half of the cafe is filled with pairs of big, red Ikea couches around low, wide tables. The shelves underneath these tables are stuffed with almost every board game made, and on the wall between each set are flat screen televisions linked up to a network of thousands of video games.
Just a sampling of the games on offer include:
Street Fighter
Mortal Combat
Zelda
Halo
GTA
Wii
Magic
Cranium
Pinball
Settlers of Catan
Dungeons & D
All of those games, activities and machines, as I mentioned above, are FREE to use for clients.
Owners Phoun Siriphong and Alain Veillette are no slouches when it comes to the gamer/cafe business. They are well aware that by offering WiFi, the consoles, boards, books and extensive library of games for free they are:
Absolutely cementing client loyalty.
Encouraging an atmosphere of camaraderie.
Letting games be played the way they were meant to be played – with friends, food and drink.
The fact that they offer good quality, inexpensive food and Sapporo on tap seals the deal.
Foonzo Cafe plays host to a variety of tournaments attended by enthusiastic gamers from across north America. Guests all have the same thing to say: "We need one of these at home." When I asked (hope a-glimmering in my eyes) if there were plans in the works for a second (third, fourth?) location anytime soon, Phoun gave an answer that I think assures this cafe's success.
He said that they would certainly love to have more locations, but first, it was important to really establish Foonzo, work out all the kinks and get used to business ownership. If more restaurateurs thought this way we'd have many more quality places to eat in this city.
I said it and I meant it: Disneyland has nothing on Cafe Foonzo!
Open seven days a week, 3pm to 1am.
1245 rue Drummond corner St. Catherine
Connect with Foonzo on Facebook
Photos by Chris Zacchia