It was like being at a playground with no bullies, an island where the mean kids were eaten by the piranhas in the mote. Human centipedes and oversized drag queens ran wild, smiling half naked fat people covered in glitter howling at the moon, everyone was queer, penises had goggly eyes, dildos were flying free, dog shit was on the menu, size 13 heels digging into the dirt as we followed a trail of Tiki torches, whip it remains, discarded wigs, and plastic pink flamingos towards true freedom, the safest safe space, a revolution, true freaks united to exist in a place of pure bliss. Welcome to Camp John Waters.
I drove to Kent, Connecticut from Buffalo NY, stopping to steal a kiss at 4:20 and send my roomie/bestie/ride or die/ down AF off to the NY Burlesque Festival for the weekend (because YES, Camp JW is even more important than THAT).
I remember months ago a few of my friends shared a link about the camp and I knew right away that I needed to be here. Born to wander solitary, I love going places alone, you never know what you will get into or who you will connect with.
I had my costumes ready months ago, we did a show at The Buffalo Infringement Festival called Don't Go Chasing John Waterfalls. It was a tribute to John Waters.
All of my costumes were shoved into black trash bags and thrown into my HHR. This weekend was going to be the biggest audition of my life! When I read the description I imagined Divine on a zipline, Edith Massey on water-skis, or Mink stole with a flaming bow and arrow. I couldn't wait to do boondoggle with weirdos and tell sexual horror stories around the campfire.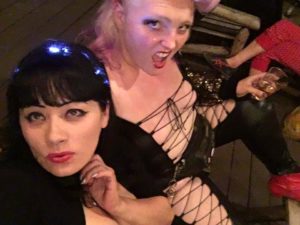 My first look was strong. I considered breaking it out for the costume contest but am glad I chose how I did. I wore the perfect Aunt Ida black jumpsuit. A thriftstore find, I remember putting it on excitedly after finding it on the pajama rack without panties on.
Labia to the crotch of the most perfect vinyl 90's fetish wear, that was DEFINITELY worn. I inadvertently had sex with that person's old crusty juices. The dust of ancient crabs couldn't keep this perfect item of clothing off of me.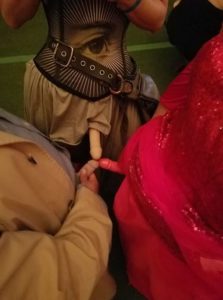 That is the kind of commitment I have to a life of true filth. Filth is my life, filth is my politics, filth is freedom and revolution.
I strutted toward dinner, this was a party that everyone arrived late to. The tent felt like a wedding, I sat alone, and then was joined by beautiful people, who would quickly all become my trashmates.
I watched John Waters eat. That felt strangely stalkery, so I then just shoved bread dipped in red lipstick and glitter in my mouth and looked everywhere else. People lined up to talk to him while he was eating. AMATEURS, I thought.
He told us some camp stories, motivated us all to be a little more political, inspired some circle jerks, and made me happy that I came. Where will I be at 71? John Waters has done it, and still fucking does it!
Bad taste is my fetish. That dream lit tent was overflowing with creative juices (and other juices too I am sure). Everyone was sensational, it was a totally empowering celebration.
The meet and greet was incredible, but strangely anti-climatic since I knew my real chance to shine was the costume contest. John asked me if my name was spelled with a C or a K, I told him C but that I would literally change my name if he spelled it the other way. Then he asked me if my mom was a stripper or a hippy. I said both, naturally. My polyester floral dress looked perfect next to his blue toned blazer.
Quickly drunk off of my new friends' wristbands and whatever the drug fairy was handing out. The music was awkward at times, but the Camp Getaway staff made up for it!
Bluto was our jolly host, he partied harder than all of us. His wonky Edna Turnblad tits were on point. Color wars involved team building exercised like bouncing on a horse, tossing water balloons, and breaking balloons with a pelvic thrust. Team red baby, I bounced us to victory that round. Lunch with Pissy was brilliant, I fucking loved her blue sequins, crowd humping, and flawless mashups.
Except for this DJ. He didn't get it. This was his reaction while I ate shit on stage.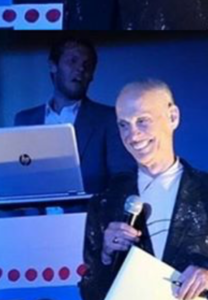 His fucking face is all the justification I need. Shocking, disturbing, out of control, yet still artful and smart.
Beautiful women with boners, vagina dentata, ALL OF THE LEOPARD, sky high drag queens with rubber tits and wigs that touch the ceiling, dykes with frizzed mullets, hand painted shirts, pencil thin mustaches, and pubic hair galore! I even saw a real live tea bagging!
I hear there was a blow job contest too! Does anyone know who won it? Was it in our dreams? Can we also talk about how spot on The Corny Collins Show in the boathouse was? It was perfectly decorated. The staff looked straight out of the 60's. Integration for all!
They told us to just say our name and who our character was. I could not do that. This is my stage and I have layers on. I was right after the trash can. I ferociously grabbed the mic, put my gun in the air, and screamed KILL EVERYONE EAT SHIT I AM DIVINE!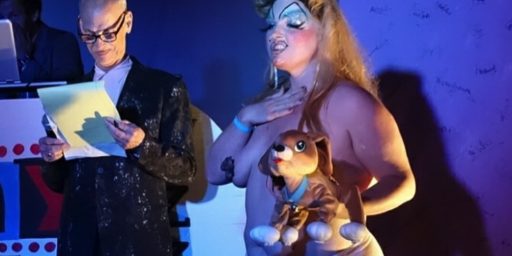 Then I ripped off my perfect red sequin fishtail dress to reveal white fringe, and lifted the stuffed dog I was carrying, squeezed it, and as the "shit" plopped onto my face I knew that I had achieved my goal. As I bent over to reveal my giant skid mark I could hear him laugh and the crowd roared. I stormed off stage. History was made.
When he announced the winners I was ready. Third place was the best Hatchet Face, he was so good! The makeup, the movements, orgasmic! Then Number 2… THE STRIPPER THAT ATE SHIT! He commended me on giving a whole act.
The 1st place winner was the most spot on Aunt Ida in white, with the bloody hook hand and perfect hair. She looked like Edie back from beyond the grave. He ended with FUCK YOU MISS AMERICA!
Fuck yes! It was such an incredible moment a lifetime in the making. However, it had to end quicker than I wanted. I had to take a horrible shit the entire time I was on stage.
My biggest fear is that my chocolate stain would be an actual dihaerra stain dripping out of my tighty whities. I pooped myself in a Dollar General once while wearing a dress. Luckily it was a long dress and I got out of there before anyone saw.
This was not going to be one of those days. I rushed by my idol to go explode in the shitter. It could not have been more appropriate. In the end, it was all for a lousy t-shirt. That was what I officially won.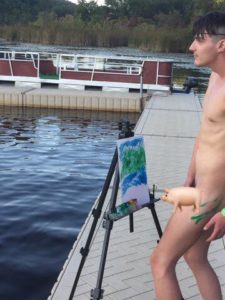 I want to call out all of the incredible people I met and experienced, but the list is too long.  A man painted a landscape with his cock and also fucked a stuffed chicken during the costume contest! Thank you, sir.
There were so many wonderful costumes, everyone was truly a star! So many quick changes, every meal was a new look. I was honored to be there.
I also won an audience with the Pope of Trash himself. I am a memory in his mind, hopefully a highlight from his inaugural camp. I knew very well that I really didn't look like Divine, but I am a method actor like he was. I am an only child weirdo turned glamour queen.
My life changed when I first saw Hairspray and Pink Flamingos. I finally knew what I wanted to be when I "grew up" or whatever you want to call it . My color scheme was set.
I was obsessed with drag queens and all things subversive as a child. It was a definite sign of things to come. I was never afraid to be myself. Just like this night, I had only just begun.
We lingered outside for a long time after the party ended. My new friends sang and I did an impromptu burlesque number down to bare nips. The lights went out, then the real party began deep in the woods (just kidding it was like the first cabin)… it was MORTVILLE!
Our Queen made us all put our clothes on backwards and drink illegal liquor. There soon was a giant Plush Papa Smurf and Moose, that really spiced things up. The goggly eyes from my nipples ended up on the tip of a cigarette smoking dick. At one point there was a sphincter twirling the hypnotist wheel.
Debachery levels were high and so were we. There was so much sequins and lack of fucks. I could live in that time and place.
The Glam Gam gang from Montreal gets my vote for the Filthiest Campers! Especially my bizarro sibling, Michael J. McCarthy. Until this weekend, these wonderful creatures were just something I had seen on the internet.
I wrote a piece about their Odorama show at Cafe Cleo last year and fate brought us together. I can't wait to perform with them in the future, look out for my triumphant return to Montreal!
I hated to go to sleep, but I had a burlesque class to teach in the morning. Wait, WHAT? How did that happen? I was in the right place at the right time. They had advertised burlesque and the instructor bailed. I jumped at the chance to teach TRASHLESQE right after a late breakfast to a bunch of hungover John Waters fans, my people.
I started off with some Divine into Iggy Pop I Wanna Be Your Dog. During the number I took a jar of chunky peanut butter out of my underoos. That was obviously homage to when Iggy Pop smeared peanut butter all over himself and his fans at a live concert. I saw Iggy for the first time this summer at Burger Boogaloo.
When I was done with my performance I asked if anyone wanted to clean off my cock. Nobody jumped at the chance. I was disappointed to say the least. Nobody lived up to my standard of filth that morning. I then proceeded to take two pieces of bread, wipe of the dick, and made me a sammich.
I then told the class to all remove their shirts and gave them a golden shower (glitter of course). LOVE YOUR BODY… touch yourself like you want to fuck yourself, own your sexuality, flaunt your flaws because they are perfection.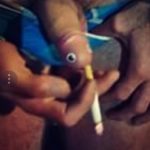 I asked people what they wanted their burlesque name to be, danced with them, and taught a few peeps how to spin tassels (it's all in the knees). Burlesque is for everyone, just like the whole weekend in general. It doesn't matter if you are big or small, young or old, male/female/trans/non binary, you have the freedom to express yourself and people will feed off of your positive energy.
Treating life as a stage will transform you to new states of being! You are powerful. Confidence kills all fear. THERE ARE NO BULLIES HERE!
Oh, Camp John Waters, how I loved you so. I was a lifeguard for awhile, floating on the giant inflatable flamingo  with my mullet, magnum condoms in my sweatband, just keeping people safe.
Sadly I am still too big for the zip line (250lb weight limit). Bloody Mary Bingo and Cards Against Humanity for the win.
Next year how about Divine and wine paint party? Make merkins and pasties? Adult balloon animals? Porn collages? Drag makeup workshops?
Yoga should be called Learn how to suck your own cock, Zumba should be called MILF Bod 101, booze should be served 24 hours, the bonfire should be a giant lobster effigy, and the end, there needs to be a Dirty Dancing-style talent show so all of the spectacular weirdos can strut their stuff and show the world that we are unstoppable.
I don't have the heart to unpack. My car is still full of costumes and there is still crusty peanut butter on my pretty pink strap-on.
It is impossible to come down from such an incredible high. I met my idol AND impressed him. What next?
All I know is that I will be there next year! I am already signed up to perform and teach another Trashlesque class. Dreams to come true!
See you next year campers, I love you all. Stay trashy.