November's Candyass Cabaret was special one, for sure. Glad I made it. If you missed it, you missed a great show, but you can still catch the next one (more on that later).
It was the Montreal burlesque show's 50th edition. With a new show, a new lineup and rotating hosts the third Friday of every month, the Candyass crew has been quite busy.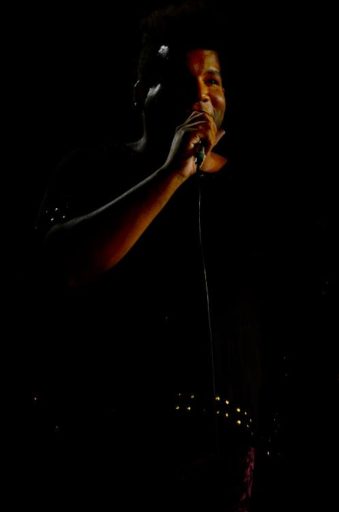 Their anniversary show at Cafe Cleopatre (where else) featured performers who have been part of it since the beginning such as show founder Velma Candyass, Roxy Hardon, Diane Labelle and Nat King Pole. They were joined by performers who became part of the Candyass Club along the way like Jacy Lafontaine, Damiana Dolce, Lili Lolipop and Pyrometheus. There were also visiting guests from Buffalo, New York's Stripteasers Burlesque: Cat Sinclair (aka FTB columnist Cat McCarthy), Juicy Lucy and Fifi Laflea.
The Buffalo trio, wearing Pussy Riot masks and carrying protest signs, reminded everyone that burlesque performance and the very act of removing (most of) your clothing on stage for the sake of art is much more than sexy. Don't get me wrong, it's quite hot, especially when done by these performers, but it's also a political act.
This, of course, was the first Candyass Cabaret since the Trump victory south of the border. Emcee Ryan G. Hinds also briefly mentioned the political climate the show was being performed in, but kept the evening squarely focused on the theme of the night, which was musical theatre.
He even sang a few tunes himself: Coming Up Roses from Gypsy and You'll Be Back from Hamilton. All part of his main job, keeping the audience entertained and happy during acts like a good emcee should.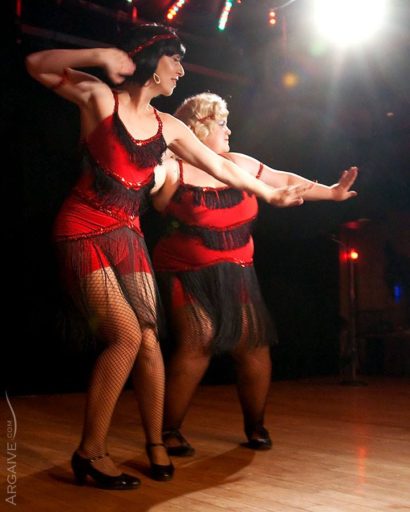 On a personal note, Hinds was quite generous with the questions when he called audience members up to the stage to answer musical theatre trivia. I placed third (having placed first in the audience dance contest at the previous Candyass Cabaret). Full disclosure: The Music Man is NOT my favourite musical, I was in it in high school and it's the first one that popped into my head when asked. I'm actually partial to Jesus Christ Superstar, Evita and Wicked.
Speaking of singing (as we were before that little diversion), the vocal highlight of the evening has got to be Roxy Hardon's rendition of Nowadays from Chicago. Deceptively soft at first, then revealing the true power of the tune.
Of course, this led to her being joined on stage by Velma Candyass, who had already performed earlier, for a raucous final…wait, Roxy and Velma? Chicago? Oh now I get it, only took me 50 shows.
It only took Pyrometheus a few moments to get down and dirty with his chimney sweeping brush to the tune of Chim Chim Cheree. Yes, the song from Mary Poppins. Instead of the film version, though, he opted for a lesser known but quite interesting Duke Ellington rendition. Bonus points for not using the Dick Van Dyke version and setting up so many obvious puns.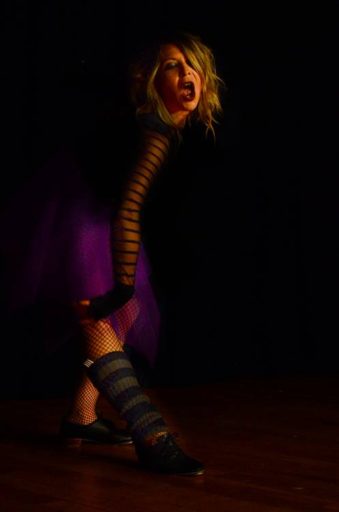 Then there was Jacy Lafontaine dancing to a song from Sweeny Todd. Making a musical about a murderous barber sexy is not an easy feat, but she pulled it off flawlessly.
Lili Lolipop had everyone Singing in the Rain. No need to bring your umbrella, she brought her own! And Sondheim wasn't left out as Diane Labelle danced to Tintinnabula from A Funny Thing Happened On The Way To The Forum.
You Don't Bring Me Flowers isn't from a musical per se, but, as Hinds pointed out in his introduction, the moment Barbara Streisand is involved, it counts. Nat King Pole in the role of Neil Diamond and Damiana Dolce as Streisand offered a very funny and even sweet modern take this classic love duet.
There was also cake!
Sounds like a great show, right? Sad you missed it? You should be…but fret not, dear reader. FTB is giving you a chance to win a pair of tickets to the next one!
To participate, just sign up for the FTB E-mail Newsletter list right here. We'll send you a digest of some of our best content each week and also, on Monday, December 12th, we'll send our subscribers info on how to enter for the draw (so you should sign up by then).
The show is on Friday, December 16th at Cafe Cleopatre, 1230 boul St-Laurent, 2nd floor, Doors 9pm, Show 10pm. This one has a holiday theme and features Diane Labelle, Nat King Pole, Damiana Dolce, Roxie Hardon, Mary Sisuei & Golem de Lave, Lili Lolipop & more! Plus Classy Claire is back with a tasty selection of rumballs.
Even if you don't win the tickets, trust me, it's worth your while to check it out. Only $10 at the door!
* All photos by Denis-André Desjardins except where otherwise noted