This is Part Three in our series on innovative, socially-minded Montréal food start-ups! Check out Parts One and Two! 
Two cat cafés are set to open this summer in Montréal.
If all goes to according to schedule, Montréal's Café Chat L'Heureux and Le Café des Chats Montréal will be the first two permanent cafés of their kind in North America.
How did our modest city find itself in this particular stream of the continental cutting edge? I spoke to both feline-friendly sets of entrepreneurs to find out.
"Everyone loves cats," says Nadine Spencer of Le Café des Chats, pausing a moment before correcting herself, "well most people love cats. And many people don't have the time to take care of their own pets. Lots of people live in condos or have landlords that don't allow pets."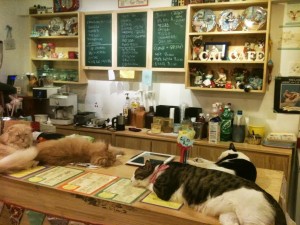 If this sounds like a scenario out of a harder-living metropolis, it's because it is. Cat cafés began exploding in Tokyo over a decade ago thanks to the potent brew of a cat-crazy culture and cramped living quarters. The city now counts upwards of 40.
While their methods for funding and promotion have varied, it seems the genesis of both ventures is largely the same: to create a welcoming ground for humans and animals to interact and, ideally, help heal each other's plight.
Plight, you say? Certainly.
From the cat's perspective, the plight is one of abandonment and mistreatment. From the human's, it's actually not so different: a growing sense of urban isolation fuelled by the increasing number of condos and apartments that forbid pets.
It's impossible, of course, to vilify landlords alone for this sorry situation.
Yet it's certainly possible to shudder at Québec's animal abandonment rates. Clément Marty of Café Chat L'Heureux describes it as "one of the worst places in North America for animal conditions." Whereas France, he says, "has 70 million people and abandons 100 000 animals a year, there are 500 000 abandonments each year in Quebec for only eight million people."
All told, it's a staggering statistic—one that screams out for bold solutions. While the SPCA and other animal rescue organizations have long sounded the alarm, the teams behind these two new spaces are seeking new and creative method to ease the malaise.
Both cafés will offer coffee, tea, pastries and light snacks, including premade sandwiches. The presence of animals in a public eatery has led to regulatory obstacles, but both cafés, after more than a year of pouring over municipal and provincial laws and permits, say their food will never be prepared in the same space as the cats.
What's more, at Le Café des Chats, drinks like "catpucinno" and "meowchiatos" will be out in full force, Spencer informs me.
"There will also be a room for them to sleep and do their own thing, if they don't want to be sociable," she says, reminding me that this is, after all, their permanent home.
But what if they just don't want to interact? "We really did our best to pick cats that are sociable," she laughs, "No cranky kitties here!"
With six more cats on the way, Marty sees Café Chat L'Heureux as something of a calling. "I discovered the concept of the cat café in South Korea," he says. "I visited more than ten cat cafés there and in Japan."
Determined to bring the concept to Montréal, he then "followed all the newer openings: Le café des chats in Paris, Lady Dinah cat emporium in London, Cat café Budapest in Hungary," adding, "I visited more than ten cat cafés in Asia and in Europe."
Wow.
Perhaps it shouldn't come as a surprise, then, that two cat cafés should sprout up in our fair city in the span of a year. The feline café movement is so amped up of late that Marty dubs 2014 "the year of the Occidental cat café."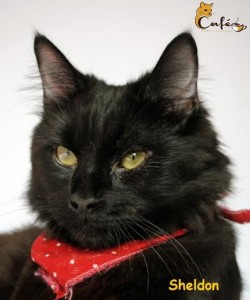 At Le Café des Chats, a visit is not just about a relaxing coffee and a cozy kitty nestled in your arm. It's also an opportunity to learn more about abandonment and help out the remaining cats struggling on the streets. Their Carte Féline is a program offering to get cats at ease with larger groups including children's groups, and fund the greater efforts of their space as well as awareness of the growing number of shelter cats seeking adoption.
Marty, too, aims to make a social difference. "We plan to organize activities for children, disabled people and the elderly, activities of zootherapy, and we plan to have regular conferences with veterinarians and cat behaviorists."
Café Chat L'Heureux is set to open before the end of the summer at 172 Duluth Est, previously occupied by Tasca Bistro. Café des Chats, for their part, are targeting an early to mid-August launch at 3435 St-Denis, former home of Ethiopian resto Abiata.
Describing the dual opening as "totally ironic," Spencer adds, "there's certainly room for more than one. More cats get given a second chance."