This week I attended the Cégep de Saint-Laurent's exhibition of Visual Art students and I was taken aback by the quality of work on display. These young students produced work on par with any University graduate in Montreal and they had clarity of vision and message that was utterly remarkable.
Work ranged from classic painting and collage, installations to conceptual and what gave these students' work the special touch were the concepts and ideas being communicated. The social and political statements these works make are very current and understandable igniting sparks of inspiration in the viewers.
Some of the artists exhibited take a more relaxed approach to their art, and music, films and fiction can be seen as influencing their work.  They are fun and contemporary and remind us that not all art should be about serious political matters, they can evoke a sense of wittiness that can sometimes be forsaken in today's art.
"Fondu" by Ann Karine Bourdeau Leduc is a very modern and interesting take on the art of painting, and it deserves praise here for its innovative quality. In this work two elements in the art of painting have come together to produce an astonishing piece. The shape of each section in the piece is irregular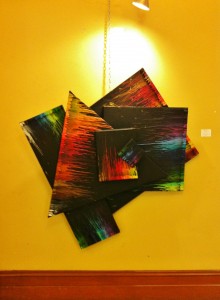 and unconventional, and the artist has decided to use a black background with colors dripping up, down and side to side to give it a very liquid and fluctuating feel. To make it more mechanically fluid the artist has decided to attach the different sections together like a collage and if look long enough and the pieces start to move around one another like the arms of a clock.
Medeleine Zoe and Gabeil Robitaille have given us "TEMPS D'OURS" a painting that I can easily see in a museum of modern art. From a technical aspect the portrait in flawless, the dimensions and alignments are just right and produce a recognizable sorrowful gaze in the face of a man who is somewhat threatening at the same time. The choice of colors in the painting is just incredible, the greens and blues in the face of the man give him a cold sick look, contrasted with the reddish eyes which accompanied by the frowned eyebrows produce that angry feel. The choice of dark red for the man's clothes also confirms this rage with a hint of passion.
One artist's photos and review of her work were removed at the artist's request.