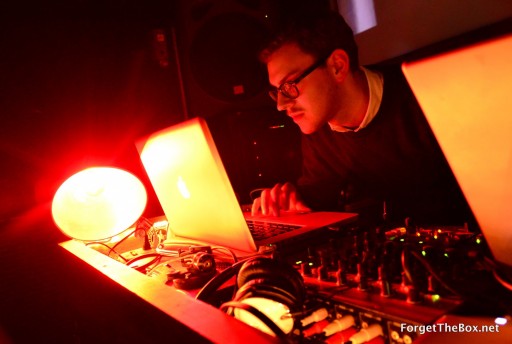 Montreal producer, CFCF aka Michael Silver, debuted his ambient electronic Night Bus II mix at Blizzarts alongside DJ JRC last Thursday. The set is a follow up to last year's Do You Like Night Bus? mix, which had critics and bloggers excited about the possibility of an emerging genre called Night Bus. Forums were filling up with lengthy debates about whether Night Bus would be the new Witch House or if it is more like Dreamwave or Chillwave. Thankfully, these discussions have been dissolving since CFCF clarified that Night Bus is not intended to be a new genre; it's just a way to describe the feeling or mood that this kind of music evokes. This music makes you feel like you're traveling alone through a dark city on a bus, lost in your thoughts and mesmerized by flashes of red and white headlights. Semi-consciously watching movies from the 70's and 80's late at night can also put you in a night bus haze. Scenes from films that CFCF considers Night Bus like, Heat, Light Sleeper, 2084 and The Running Man were projected behind the Djs to create what he calls "an immersive night bus experience."
It worked. In a space somewhere between a lounge and a club, the blend of classically slowed-down CFCF sounds with hypnotic hip-hop beats kept the booths and the dance floor equally packed. The DJs switched every half hour, seamlessly weaving CFCF's 80's inspired melodies with JRC's remixed rap and R&B anthems in a diverse set, which I later learned was mostly improvised. During a JRC session, we had a chance to talk with CFCF about his inspiration for a set that includes a drawn out, dreamy version of Fever Ray's "Keep the Streets Empty," soulful piano loops from Notorious BIG's "One More Chance" and Vangelis' "Wait For Me" intro to Blade Runner.
"Tonight I'm going to play some of the Night Bus set kind of stretched out," Silver explained over a pre-set drink, "but we're mainly just going to try and stick to that aesthetic. It'll be a good mix and it's dark enough so it's a good vibe. It might be dancey at some points but we're going to play whatever feels like it works at the time. It's been great in the past because sometimes people would dance and sometimes they wouldn't, but they didn't leave, they'd stick around and hang out. It's about the atmosphere rather than trying to get a party going."
One thing I've learned from my night bus experience is that once you get onto night bus, it's really hard to get off it. This seems to be the case for CFCF who's been immersed in this kind of music for quite awhile.
"I've mostly been listening to this kind of stuff, like Vangelis, a lot of 70's and 80's electronic music, Tangerine Dream, and lots of Japanese electronic stuff. There's a lot of really good people working right now like D'eon and Jacques Greene, and I feel really connected to these people because I feel like we're all working on a similar thing, but the nice thing about it is we're all kind of doing our own thing at the same time. As far as the way that I'm working, my writing style is pretty private. It's pretty much just me alone for the most part, working on stuff in my house."
It's not surprising that he works in solitude because, whether they're his creations or his reworking, CFCF continues to churn out music that transports you to a more introspective and isolated space. So next time you're battling bouts of insomnia or trapped in the time warp of travel, check out his trance-inducing Night Bus II set and enjoy the ride.