In a move that surprised many this morning, Premier Jean Charest announced that the provincial budget Finance Minister Raymond Bachand announced on Tuesday will be reworked.
"It has become apparent that we made a mistake," Charest told reporters assembled for an early morning press conference in front of the National Assembly, "the budget we brought down the other day only helps the rich and they're not the majority of voters."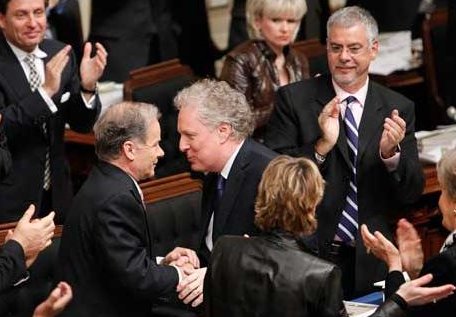 The controversial budget, which would have seen fee hikes across the board including increased tuition for students, Hydro rates and even a user fee for Medicare drew the ire of Quebecers from different walks of life. It seems that for the first time in a long time, the Charest government listened.
"We realized that much of what's in the budget is unacceptable," Charest commented to the somewhat bewildered press corps, "I mean, part of it goes against the Canadian Health Act. We thought we'd be able to use the state of the economy as an excuse to ram through some of our neoliberal agenda. We were wrong."
He did stop short of a complete Mea Culpa, however. After explaining how an alternate budget will be drawn up and released later this afternoon, Charest laid the blame squarely on his Minister of Finance: "Raymond Bachand is to blame. No, I'm not going to fire him so I can scapegoat him again, but rest assured, he's the one to blame."
However, Charest did conclude with some reassuring words for his wealthy friends, almost all supporters of policies like those included in the soon-to-be-scrapped budget:
"APRIL FOOLS!"
While this news story is false, the only fake part is Charest admitting what he is doing. If you were upset to find out that the recent budget still stands, then come to the protest. It starts at 1pm in Phillips Square (Ste Catherine and Union, McGill metro). For more, please visit nonauxhausses.org