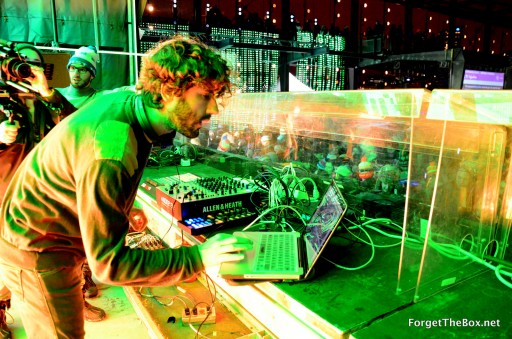 Montreal's Igloofest has grown significantly over the past six years, this year's being the best yet by far. At 11:03 pm on Saturday, January 21st ticket booths were suddenly closed. To the frustration of hundreds of festival goers, all entrances and exits to Igloofest were now closed as they had achieved a historical admittance of just over 10,000 people. Despite the Saint Laurent river being -20 degrees Celsius.
The docks in Montreal's Old Port (official referred to as the quays) has once again played host to our winter electronic music festival. This edition's line-up alone explodes off the official website in an array of
bright colours and cheeky models promoting the festival's snow suit contest. The heavily hyped and much anticipated DJ set by homegrown Montreal DJ A-Trak, preceded by French native DJ Cosmo at Sapporo's mainstage delighted everyone in attendance. Each night showcased a bevy of internationally known DJs flying in from every corner of the world.
At the Sapporo sponsored main stage, a kaleidoscope of LED and backlight installations created ethereal warm lightships to the amusement of DJs and dancers alike. As the second Thursday of the festival began I took in the colourful fog created by the warmth of the audience in the arctic-like climate of winter alongside Terence Fixmer, who was preparing for his set after Tiga. The powerhouse line up of Bordello, Tiga  and Terence Fixmer filled enthusiasts of EDM with great pleasure without alienating those who are more interested in having a good time. These veterans of the music scene played sets while dancing to them, themselves.
They all took turns having fun with their audience, demonstrating their talent by each creating a marriage between club tunes and geeky technical masterpieces often misunderstood by anyone with a wishy washy approach to electronic music. Bundled up in our fur lined parkas Terence and I shared coffees spiked with Jagermeister to fight off the cold. His hands were white at the knuckles and red everywhere else. I asked if the cold would bother him on stage. He told me he was disappointed "that it wasn't colder. I heard many stories from friends who said Montreal was cold. I was in Norway and it was colder there than it is tonight." Fixmer was unaware that while he was in New Caledonia it would reach record low cold and Igloofest would sell out. His eyes glittered at the delight of a winter EDM festival in Canada. A resident of Lille, a northern French town bordering Belgium, Fixmer is always delighted and honoured to perform for winter festivals, beyond Europe, especially in Canada, because he loves experiencing the cold.
His next stop is New Caledonia where it is currently a balmy 26 degrees Celsius to promote his latest EP, A Journey To Uncharted Destinations. He will be promoting it heavily around the globe, in many places that have never had a winter.
Fixmer's three track EP demonstrates his love of things minimal and sombre without being boring or slow. He is a methodical man who enjoys time alone, making music, when he's not touring. He finishes his coffee and tells me,  "I stay in my studio, I read, and I see friends. I watch movies at home. I like Wall-E. It's not often I get chances to do those things." This newest works showcase crisp synths accompanying more raw background percussions and the examples are plentiful and fun. Igloofest provided a wonderful platform for this sound because it requires room to breathe and makes you want to dance. It features the original mix of the title track song, as well as two distinct mixes of "The Arrival", one of which is done by the Prologue artist Lori. It's radical techno for purists without being pretentious. Like Fixmer, his music is blunt and fastidious, yet truly hypnotic, mysterious and always engaging.