Cinema L'Amour, is a quirky Montreal band, lovingly described as nerdy loop-rock. (It's also a porno theatre on St. Laurent and Duluth) The band is currently on an east-coast Canadian tour and ForgetTheBox is following them… well not really, but sort of. While they are on the road, Dorian will be sending us blog posts detailing their adventures and exploring what it's like touring across Canada. For the next few weeks we'll be posting their updates culminating in their big welcome back show on June 2nd. Here is their weekend report.
Haligonia
Hey Digital Follower Folks,
Right now, I'm sitting in a McDonald's in Sydney, NS, up on Cape Breton Island. They're advertising a McLobster Sandwich out front, but I couldn't bring myself to risk one of my favourite foods being desecrated by such an insidious and grotesque chain. Pretty much the only thing I trust 'em with is a fountain soda. Can't screw that up too badly.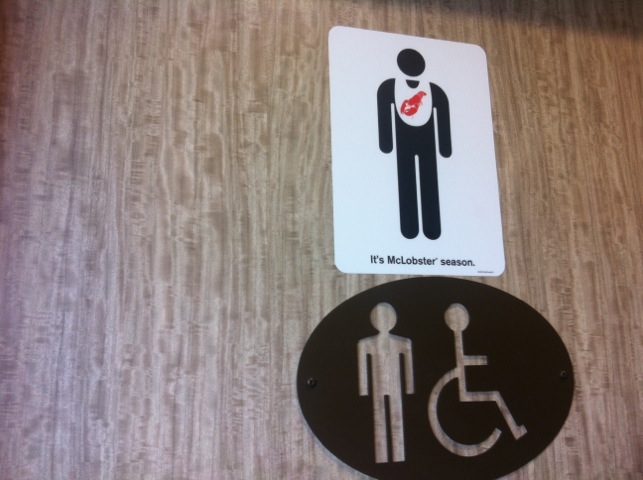 (no caption necessary)

Chris getting his Dance on to the bumping McDicks Tunes
Anyhow, at least they've got free WiFi.
I apologize for the long delay between blog entries, but I've been reading the news out of Montréal every spare second with an Internet connection that I've had. Our city is on fire, and with damn good reason.
Fascism is afoot.
Time to put your Red Squares on, Rest-of-Canada.
Anyhow, after departing the hotel in Sackville for the last time, we found ourselves in Nova Scotia, the only province with a Latin name. We arrived in Halifax in good time, and quickly availed ourselves of its luxurious libraries and plentiful wireless Internet access. What a marvel of the modern world! We then made our way to Nick Everett's place to drop off our bags and chill out before the show.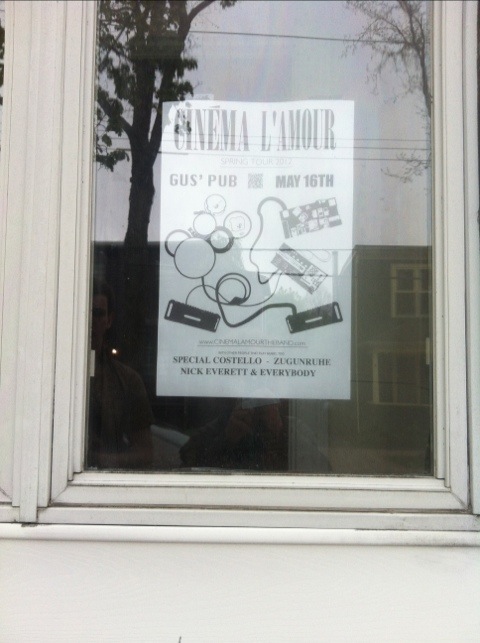 Poster up in Nick + Co.'s window
Our show that evening was at the pseudo-legendary Gus' Pub in Halifax's north end. We'd performed there on our previous trip through the City, and it welcomed us back into its open arms, VLT's, free party mix, and all. Performing alongside us were our Pals Nick Everett and Everybody, as well as new friends Special Costello and Zu Gun Ru He.

GUSSSS
When we arrived, the bar was more or less deserted, save for a few stalwarts in the giant glassed in VLT cage. Weird. Slowly, band folk started arriving, and a plethora of introductions were thrown around, willy-nilly. By luck of the draw, Nick Everett hit the stage first. The crowd was slow to arrive, but half way through their set the room had started to fill up. The boys brought their incredibly dynamic tunes to life, chock full of stop on a dime transitions and punctuated by the loudest of silences.

The Rock, being most effectively brought by the lovely and talented Nick Everett and Everybody
Next up, Special Costello took the opportunity to blow all our minds with their unconventional bass and drums weirdo pop songs. Jeremy Costello (who apparently studied to become an opera singer, if what I overheard at the bar was correct) had an incredibly unique sense of melody, but boy did it ever worm its way deep into the pleasure centre of my brain. His partner in crime, also named Nick, relentlessly battered his drums with the grace of a jazz great and the ferocity of an inebriated orangutan. Did I mention they wore clown makeup?

Special Costello in all their Specialness!
We took the stage third, and what followed was one of the most unique and high stress sets we have ever performed. Well, I guess I took on most of the stress burden, Chris is a pretty easy going dude. Anyhow, it began like any normal gig. A couple of songs deep, however, and things started to veer off the normally established rock-routine. First, we started getting requests for some of our older songs. Good sign, and a first in Halifax, which was greatly heartening. After acquiescing to the demands of our rabid fans, things started to get out of control. During a particularly heavy moment in St. Elle, I broke a rather important string. No problem, Chris had things covered with a drum solo while I hopped off stage to grab my backup guitar. PROBLEM SOLVED FOREVER! YAY!
WRONG!
Halfway through the next song, another rather pivotal string decided to prematurely end it's own life, much to my dismay. Okay. Nick Everett came quickly to my rescue by handing me his guitar. Which turned out to be a baritone. In drop B Flat. I attempted to retune on the fly and make up the difference with a Capo, but having my entire visual frame of reference taken away was a rather jarring experience. As such, the crowd at Gus' were treated to a "Jazz Interpretation" of one of our songs, and got to hear another in a previously untested key. It was exciting, and kept me on my toes, I'll say that much.
After we retired from rock for the evening, Zu Gun Ru He took the stage and serenaded us all with some excellent jangle rock in the classic indie rock tradition. Gang vocals, chant-alongs, and bobbing heads abounded. Good times were had, that much is certain.
Load out occurred in the pouring rain (everyone's favourite!), and we headed over to Nick Everett's place for some well deserved crashing.
To Be Continued…
-D