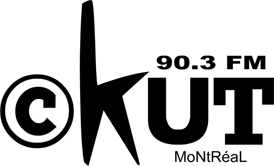 This morning I woke up a little earlier than usual, had my coffee and took a walk through the already sweltering heat, arriving at the CKUT studios in the heart of the McGill Ghetto around 8am. I was there to talk about FTB on the Friday Morning After.
Not to be confused with our very own sex column of the same name, CKUT's Morning After is a local arts, news and culture radio show running Monday to Friday from 7-9am. The hosts change depending on the day as does the language they speak on air. The Friday edition is hosted by Ken McMurray and Craig Sauvé and has a particular focus on municipal politics and the local arts scene.
Today the weather played a big part in the discussion, from the freak storm over Montreal last night to how the city and the boroughs were dealing with the heat. Meanwhile, in anticipation of Heavy MTL happening this weekend, local heavy metal dominated the musical selection. Mmm, metal at 8am, kind of like coffee for the ear. After headlines from Democracy Now and a very interesting interview with Sterling about the Under Pressure graffiti festival, it was my turn on the mic.
We talked about just what FTB is, where we came from and where we may be going. If you're new to the site and want to know more, or a regular visitor interested in hearing my take on what the site means, it's an interesting listen.
Thanks again to Ken and Craig for this opportunity and enjoy:
FTB's Jason C. McLean interviewed on CKUT's Friday Morning After