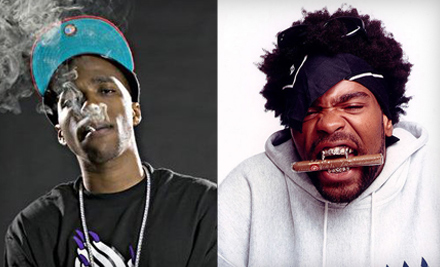 The concert on October 20th at Club Soda represented more than just a hip-hop show, it represented the unification of two collectives and their loyal fan-bases.
The first block consisted of several members from the Smoker's Club, including Curren$y, Smoke DZA, Fiend, Corner Boy P, and a surprise appearance by Trademark da Skydiver and Young Roddy (maybe in order to make up for the last-minute cancellation of Big K.R.I.T.). If several of those names, or God-forbid all of them, mean nothing to you, then you probably don't smoke weed multiple times a day.
Naturally, with the thousands of flyers handed out and later converted into joint filters, the stoners of Montreal wandered their way over to Club Soda to pay the "reasonable" cover charge of $65 (edit: the dealers of Montreal).
But amidst all the permanently-red eyed Smoker's Club fans, a larger crowd came in droves, adorned with flat-billed caps, chain necklaces, and Wu-Tang long-tees. Yes, the second half of the show was dedicated to the uncompromised star of How High, the Wackness, Soul Plane, and Garden State: Method Man.
Meth took the stage after a surprisingly impressive set by Curren$y, who I caught on the last rendition of the tour when I was in Seattle (and due to the Smoker's Club's overall laziness, sloppiness, and inability to organize, I left fairly underwhelmed). This time around, every aspect of his performance was improved. They even managed to turn Curren$y's broken leg (which left him in crutches) into a bonus, as he sat on an extra-wide couch with four random girls, alongside other members of the Club popping in and out to take a hit off of the many blunts in circulation.
After Curren$y hobbled off the stage, a long intermission of roadies setting up a single DJ board ensued. Then, as they draped the table with a cloth featuring Wu-Tang's infamous logo, the crowd began their chants.
Out came Method Man and he brought a level of energy far exceeding my expectations. From Wu-Tang classics to Meth's solo stoner work to an O.D.B. tribute in a crowd sing-a-long of Shimmy Shimmy Ya, the show maintained a constant stream of engagement, with the exception of an awkward moment before C.R.E.A.M. when he asked the crowd to "wave their dollar bills"… only to be told by a stagehand that he had crossed the border into a land which lacked George Washingtons.
As he shook hands, acknowledged the crowd, and eventually walked off the stage to a sea of crossed-thumbs in approval, I took a moment to reflect on how his crowds had changed over the years. Actually, Method Man summed it up himself halfway through the set when he addressed the audience, stating, "All the brothers and sisters in here say, ya know, Meth, there's a lot of white people here. And I say you're goddamn right there are a lot of white people here! White people love hip-hop too."
Well, besides for the shift in racial demographic, he forgot to mention the most noticeable shift of the last twenty years: ticket price. But I guess that's just the way it goes to catch the legends in concert—or you can always get a press pass…