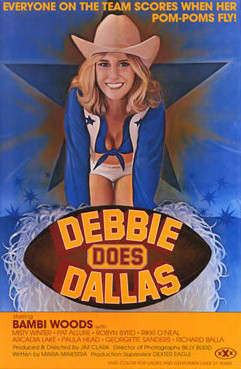 When you think of the most classic porno titles of all time, Debbie Does Dallas is right up there with Deep Throat. Made on a shoestring budget in under a week in 1978, it gained much of its notoriety from a lawsuit by the Dallas Cowboys Cheerleaders over the unauthorized use of their uniform in the film and on its famous poster.
It went on to become one of the top 5 grossing pornographic films of all time, as it was one of the first of the genre to be distributed on VHS, selling over 50,000 copies and spawning a plethora of sequels and remakes. Like most of the pornography of the era, it was financed by the mafia, specifically New York-based Michael Zaffarano, who coined the film's title. When director Jim Clark first heard the title, he snapped back that it didn't make any grammatical sense, which Zaffarano wisely proclaimed would make people like it even more.
The deliciously simple plot revolves around the doe-eyed head cheerleader Debbie who wants to try out for the Texas Cheerleaders but can't afford the trip. Her plucky young squad wants to join her so they all get part-time jobs but still are having trouble raising enough money for the trip… that is, until they start showing off their luscious, young bodies and performing a slew of erotic services for their employers.
The most unique female masturbation scene features a candle, though I should have seen that coming when one of the wanton cheerleaders takes an after school job at Mr. Hardwick's candle store. After Mrs. Hardwick catches the girl in the act of self-pleasure in the back room of the store, she assures her not to worry and seduces her into a titillating threesome with her husband. And it wouldn't be a 70s porn without a locker room shower orgy ripe with cocks sprouting from full bushes thrusting into wet, wide-open mouths or a car wash scene featuring two pairs of the perkiest nipples to peek through dripping wet t-shirts.
While the girls agree early on that will retain control of the sexy situations and won't do anything they don't want to do (or anything they won't do with their boyfriends), all of the scenes go way beyond the initial tit-fondling between Debbie and her boss, Mr. Greenfield that spurs the plan in the first place. By the end of the film, he's the quarterback that gets to score a touchdown with the captain of the cheerleading squad, a fantasy brought to life with Debbie in that infamous blue and white starry uniform. I read this aspect of the film as a commentary on young actresses getting into the pornographic industry in the first place – they think it'll be a fun way to make a bit of extra cash but are quickly swept up into the seedier side of the industry, marred by drugs and abuse.
Even starlet Woods confirmed this as her motive for entering the industry in an extremely rare interview with "Scaramouch" of the now-defunct blog Yesbutnotbutyes:
"Never in a million years did I think that it would be anything like what it became and if I had known I would never have done it! I just thought it was easy money at a time when I had none."
Debbie Does Dallas was her first of only a handful of films, evident in that genuine "deer-in-the-headlights" glint in her eyes, giving her undeniable sex appeal. After fading from her very brief tenure in the adult film spotlight, she was reported to have died of a drug overdose in 1986 although the truth of her story is more boring: she moved back in with her parents, dyed her hair brown and became a housewife and mother, leaving her porn legacy behind her.
3.5 dicks out of 5