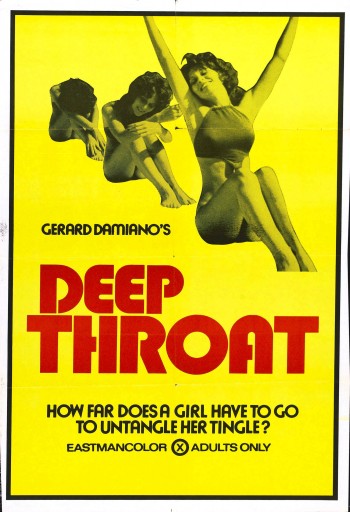 Recently, it came up over drinks with fellow FTBer Steph Laughlin that I hadn't seen any of the seminal 70s porn films, including the notorious Deep Throat. I decided it would be a double feature, paired with the 2005 documentary Inside Deep Throat for insight into the background and social climate of the time.
Deep Throat was the first pornographic film to reach a mainstream audience. Made on a shoestring budget of $25 000, its estimated gross is reported to be as high as $600 million, which would make it the most profitable film of all time.
Even before it opened in Times Square in June 1972, it was already being hailed as obscene. Efforts by the police and the courts to shut it down only made Deep Throat more popular as it ushered in a brief period of porno chic, a term coined in the New York Times.
From the very first frame, the aesthetic is so ridiculously 70s that it almost feels like a parody: thick mustaches rivaling that of Burt Reynolds, feathered perms and the requisite ample bushes. The decent enough fucking scenes are accompanied by a groovy soundtrack of psychedelic, organ-heavy covers of pop songs and a conspicuous number of songs featuring the word "deeper" over and over again.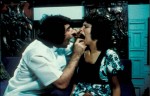 The premise is downright silly, which comes off as relatively charming. Linda Lovelace, a fresh-faced young brunette, confesses to her equally sexually adventurous friend that, while she gets pleasure from sex, she's never experienced one of those "bells ringing, dams bursting, guns going off" orgasms that she knows must exist. Linda then visits a wacky doctor who discovers that her clitoris is in the back of her throat, which she proves by performing the most intense and satisfying cock gobbling on his throbbing member. Cue the fireworks, send the rocket up to the sky!  I'm not kidding, there are actual intercuts of clanging iron bells, bursting fireworks and rockets taking off.
Of course, in an age where we can get almost any graphic image we seek at the click of a button, it seems foreign that people would get so excited about seeing fellatio on screen. But, as Camille Paglia told Playboy in 1995:
"Deep Throat was a revelation… when I was growing up, good middle-class white girls never discussed it. We'd never even heard of it. Women went with their boyfriends to see Deep Throat and their mouths were hanging open. No one could believe it."
In the documentary Inside Deep Throat, she calls the film as an epochal moment in the history of modern sexuality, as it marked the first time it was socially acceptable for respectable middle class women to visit a porno theater, thereby breaking down traditional codes of decorum.
And while Deep Throat arrived in the wake of the sexual revolution, it presents seemingly conflicted takes on feminine sexuality. The first sexual act shown in the film is an eager young man going down on a woman as she longingly and luridly drags on a cigarette before exhibiting a realistic-looking orgasm. Yet we also have the absurd male fantasy of its premise to contend with:  the woman is getting as much sexual pleasure from giving head as he is from getting it. In fact, the only way she can achieve true satisfaction is in serving someone else. But, at least she's getting her bells and whistles orgasm, any way she knows how.
In addition to her incredible blowjob skills, Lovelace also performed anal sex, uncommon for women at the time. She also engaged in a very strange sex act near the end of the film, involving a male partner, a can of Coca-Coca and a suctioning tube.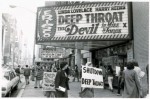 After the tightening of the American obscenity laws in 1973, the film was put on trial all over the country and was eventually banned in 23 states. The film's fellatrix starlet, Linda Lovelace, denounced her performance later in life, asserting she was forced into the role by her possessive husband, producer Chuck Trainor.
"When you see the movie 'Deep Throat', you are watching me being raped. It is a crime that movie is still showing; there was a gun to my head the entire time," she told the 1986 Attorney General's Commission on Pornography.
As pornography faced a mounting backlash from the feminist and religious communities coupled with the advent and growing popularity of the VCR, the whole industry shifted from plot-driven features to pure sex, which was far easier and cheaper to produce. Inside Deep Throat ended with a statistic that exemplifies just how much this shift affected the porn business: in 2002, there were 467 Hollywood movies made, compared with 11,303 adult movies.
Deep Throat serves as the archetype of the time when porno was so chic, even your grandmother went to the seedy downtown theater to see it. Honestly, I did become quite aroused at a few times throughout the film, but that was mostly for the fashion and the music.
3.5 dicks out of 5