Picking a band is like picking a book it's all about the name. Don't judge a book by its cover they say. Don't judge anything. Judging is bad (or really just part of human nature). We all judge things. We have our opinions, whether you voice it or not, you have thoughts floating around in your mind like cheerios in milk at breakfast.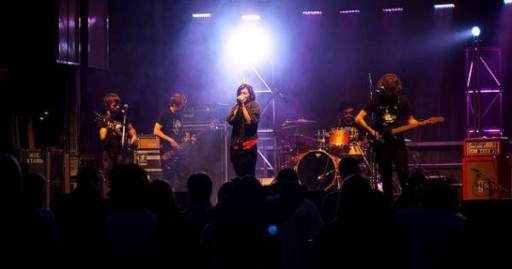 Day two was ultimately amazing (the music gods must have heard my plea for greatness). My adventure started off at the Analogue Gallery. The gallery was lined wall-to-wall with old prints of musicians that would have otherwise been thrown into the waste pile of nothing. The show was on the floor and the space was used to dance and jump around and roar pop songs. Whale Tooth made the prints shake as the front singer, a pop hot chick, grittily spilled each note over the entire crowd. Free beer? Yes. No cover? Yes. Local TO bands? Yes. It was a good start.
Speaking of this TO pop…there's an interesting layer of superficiality that engulfs this city and produces some of the most put together (looking) people I've seen in a long time. Their local bands all look like they just came off an MTV reality show or American Idol. This city is Americanized and that's fine. On a local level it bleeds pop. And that's cool because it's done really, really well.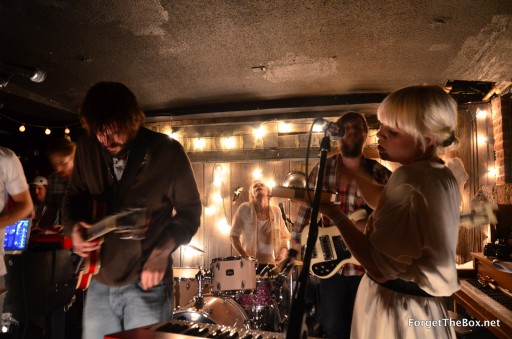 Anyway, last night after the gallery show I ventured up to see Dinosaur Bones only to find extremely long lines, extremely mean bouncers and extremely little patience on my part, so I jumped in a cab and headed towards The Dakota (one of my favourite spots in TO now). Best decision ever. Best bands. Best Pabst on tap. Best everything. The band I've been longing to see took stage and blew me away. Meet Alcoholic Faith Mission (AFM). Here's the deal…
AFM play and sing your thoughts with every strum as if you were speaking, but instead it's music. Their music spills everything in your head and recreates exactly every detail of how you might feel. They musically and lyrically piece together scenarios of real life situations and make them come together as if you just lived every moment in their presence. They're in the background singing your life.
Seriously.
It's like they reached inside your head, pieced everything together and made it music. I can't get enough. AND after their set they asked the entire audience to join them for beers and chit chat. Holy shit, awesome.
The set started with their song Ecapsim. Each song after that just built up an energy in the basement venue that put you under a parachute and sent you flying. Songs like Running with Insanity (really nice to know you/ really nice to meet you/ I'm saving myself for someone else) really made you realize they live their music- for example they were dancing, smiling, and playing their instruments like they were in a physical, passionate earth shattering love affair. The entire crowd was chanting their lyrics back and forth. Also a cool observation was that this collective of show goers was a diverse blend of everything from hardcore to football players that says a lot.
After a few more Pabst on tap another band took stage, Racoon Bandit. Okay, I'm biased, but seriously dude I still stand by these words: the east and west produce the best music you'll ever hear and we love it. We actually caught up with them the next day and the interview will be posted soon.
Cool Beans. Go live and listen to AFM and Raccoon Bandits. More show reviews to come. Wait for: Dinosaur Bones, Russian Futurists, Little City, Dance Laury Dance and Fever.
* Photos by Chris Zacchia
* Whale Tooth photo courtesy of the band