I arrived at TIFF Bell Lightbox Saturday morning pumped for a full day of movie watching ahead of me, although I must admit I wasn't on my a game going into day two of the CMW Film Fest. While Chris, Cassie and Jerry go to shows all night, dance around, then sleep in, I was up early to sit in a dark theater all day.
Now I have to say nothing against the films I watched on Saturday, but a general sense of exhaustion did make me almost nod off at various points during the screenings. Taking pint breaks in between the movies probably didn't help much either.
I just have to mention that if you find yourself at the Lightbox and want to get a drink and some food, I would suggest going to the downstairs restaurant, not the Blackberry Lounge near the theaters. While the beer was great and my beef tenderloin dinner was delicious, it was ridiculously overpriced. I reasoned with myself that I'm on vacation so it's alright, and I got to gawk at Cameron (aka co- director of the Toronto International Film Festival) as he had dinner at a table nearby, but I know that I'll regret it when I see my visa bill back in Montreal in a few weeks. Of course you're not here to read a restaurant review from me, so let's get back to the movies.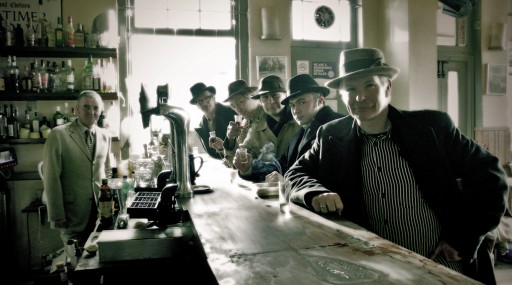 Of all the movies I saw on Saturday there are two that really stand out for me. The first was the Julien Temple documentary about the 1970s English rock band Dr.Feelgood called Oil City Confidential. Julien Temple is apparently considered one of the greatest rock n' roll documentarians working today, and after seeing this movie I understand why. I really look forward to catching his film The Future is Unwritten about Joe Strummer.
Compared to the rubbish that was the Sammy Hagar Go There Once, Be There Twice movie the day before, this was a brilliant piece of documentary filmmaking. Telling the full story of the evolution of the band from inception to break up, it was beautifully shot, well edited and well researched. Although my companion for the screening found it a bit tiresome in parts, I really enjoyed it which is saying something because I can't say that I'm a huge fan of the documentary genre, overall. The film programmer for CMW mentioned that a Montreal distribution company has picked up the rights to Oil City Confidential and it needs some good grass roots word of mouth to get noticed, so consider this my official two thumbs up CMW.
The other movie I wanted to talk about in this article was the trippy experimental horror film Beyond the Black Rainbow directed by Panos Cosmatos. Now as a film geek I have tried very hard to embrace all genres of filmmaking and as hard as I've tried, some types of movies generally don't do it for me and experimental is one of them. Show me one more Michael Snow film and I just might shoot you in the face.
Now that being said, as I watched this film I was oddly captivated the entire time. The creepy as hell performances, the brilliant sound editing and neon colours all melded together perfectly.
I've never been one to partake in the question period after screenings, but I found myself engaging in an intense conversation with the director of this film afterward about the symbolism of certain scenes.
I can't say that I liked Beyond the Black Rainbow, yet there's something about it that hours later I can't stop thinking about. And in a world where cookie cutter movies are pumped out and easily forgotten, I have enormous respect for this film for that reason.
So that's it FTB readers, strange to think after thinking about CMW for so long that it's already over. I've seen a bunch of great shows with Chris, Cassie and Jerry these past few days, and make sure you read their articles about them as they come out in the next few days.
What am I going to do now? Going to bed.