Director Ellen Seidler comes to CMW to talk about her crusade against online piracy and its affects on indie filmmakers.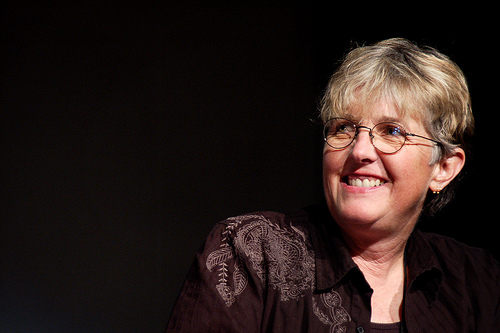 I remember the days when Forget the Box was five friends sitting around a dark basement apartment with big dreams. It's pretty exciting that we've gone from that to taking   part in an events like Canadian Music Week. Since I was determined Not to talk about a certain event going on in Hollywood this week (Tania did that for me anyways) on the column I thought instead I'd talk about a really interesting lady who will be speaking at CMW, lesbian filmmaker Ellen Seidler.
Harvard graduate, blogger, activist and 25 year veteran of broadcast journalism, Seidler is also a celebrated indie queer filmmaker. Seidler's credits include a documentary about AIDS in San Francisco (Fighting for our lives-Facing AIDS in San Francisco) and an erotic short (Et L'Amour). Seidler is currently the creator and editor of the non-profit website Breastcancernetwork.org and is a media and communications professor at Berkeley University in California.
Seidler became an anti-piracy activist when her latest film, the 2009 romantic comedy And then came Lola (co-financed by herself and co-director Megan Siler) was widely pirated after its worldwide release. Seidler, outraged by legitimate companies advertising on websites that promote pirated content, started a non-profit to combat illegal downloading.  As someone who still buys all her dvds (and starting this year, blu-ray) because I'm a giant dork who likes to have a physical copy with all those delicious special features, I can't honesty say I know anything about the tricky world of online film piracy.
Reading up on the issue I was interested in learning that currently it's up to the copyright owners themselves to track down the pirated links and alerting websites like Google or YouTube. That's all well and good for big media companies that have the time and resources to shut down your Mega Video links to The Big Bang Theory or Harry Potter,   but what happens to potential profits for indie filmmakers? "It's difficult enough to see one's film being pirated widely online" says Seidler, "What is most disturbing is that everyone is making money, it seems, except those who own the rights to the film."
Seidler has started a blog about online film piracy called www.popuppirates.com. While in the fall Google apparently offered to help media companies track down pirated links (for a price of course) Seidler points out that given the fact that Google makes money off these websites through the ad provider companies they own like Adsense and DoubleClick, its doubtful that they will seriously put an effort into shutting these websites down. So while the internet has become a great way for independent filmmakers to help promote their work, until something is seriously done there's little chance of indie filmmakers making any sort of real money from their art.
Ellen Seidler will be giving a talk about the affect of online piracy on independent filmmakers during the Canadian Music Week Film Festival, taking place in Toronto March 11th-12th.