It's official! The Forget the box team is at CMW and there's no way back. Personally, it's my first year attending this event and the least I can say is that I wasn't prepared for such an intense weekend.
The whole city is turned upside down. Bars are closing at 4am, people from everywhere are gathering together, every single venue in the city has at least four bands playing every night and, of course, everybody is on a beer diet. Here's the report of my first Canadian Music Week night…
First of all, Toronto is a wide city. So wide, that you can easily walk for an hour to go from one venue to another. It can be tiring on your feet (especially if you have the "good" idea of wearing high heels) but it's also an opportunity to walk by many venues and randomly discover your new favourite band.
While stepping out in search of food, we noticed a venue right in front of our hostel. We put the food search on hold and entered Cherry Cola. This tiny red bar decorated in a rococo style was the perfect way to start our adventures. The Dirty Nils were on stage and impressed us all (Jerry already wrote about them so go see his review if you want to know more about this grungy band).
We headed out to catch Chinatown at Lula Lounge. Unfortunately, it was a bad scene, as the Montreal band was the last one to play this big, empty venue. I've seen them before and the least I can say is that they had the worst conditions for their Toronto debut. For some strange reason they weren't allowed to play with their own gear, the venue was way too big for a francophone band doing their first show in this city, and they were playing their new songs for the first time live. A show to forget, but they still a bright future, since their new drummer Maxime Hébert (formerly of the High Dials and Final Flash) will brings a great dynamic to the band.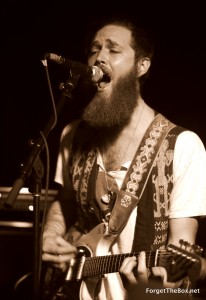 After half an hour of walking and a couple of PBRs, we arrived at Wrongbar, a hip Toronto bar that I've wanted to check out for a while. We were right on time to catch the beginning of The Lava & Ash's set. They're a blues, surf, garage rock-infused band who describe their latest release as "Wynonna Ryder's favorite album to just put on and weep, just 100 hard copies, up there with dance mix 94, hotter than a pepper sprout." I strongly suggest you visit their Bandcamp , as you can grab their music for free. (Venue note: minus point for Jäggermeister's half naked promo girls that were giving out caps and boxers…excuse me ladies, but all we want is free shots.)
Next stop was Parts and Labour, where Rituals and Little Girls were playing.  We got in a little early so we had to entertain ourselves. That's pretty much where we lost control.
The venue was in the basement but the restaurant upstairs was hosting a Belvedere Vodka private party. I tried to sneak in, but the girls at the door, not seeing my name on their V.I.P list, wouldn't let me past them. Little did I know that all I needed was a charming personality, but mostly a camera around my neck. That's how our FTB photographer got us in.
With complimentary shooters and delicious mixed vodka drinks, we headed back downstairs to catch the end of Rituals who were good but the following band, Little Girls, really stole the show. What started as Josh McIntyre's solo project rapidly became an underground post-punk sensation. The four piece band released an EP last fall and is currently working on their second LP.
That's about it for our first day. Well, there's more but it would be inappropriate to write about the end of the night, wouldn't it? There are plenty of bands I'm looking forward to seeing today, but it's mostly going to be a Nicolas Jaar kind of day. I'll finish with these words of wisdom: when the Indian pizza guy tells you to taste the spicy sauce before putting it all over your slice, one must listen or end up crying.
* photos by Chris Zacchia