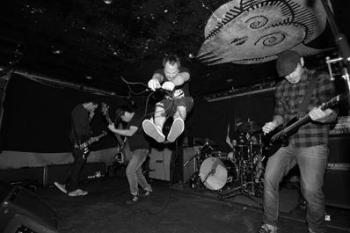 One thing I remember about last year in Toronto was all the amazing metal and punk shows I randomly came across during Canadian Music Week. Here's is guide to this year's CMW for those of you who like it loud, fast and distorted:
Arkam Awaits
Besides having a really cool name, these Guelph natives really know how to rip metal chords in your eardrum. Awaits represent the best of Southern Ontario metal. Expect to see large, familiar crowds begging for more!
Bathurst
These guys are the sound of growing up, without all that growing up nonsense! Punk is alive and well in Toronto, as Bathurst brings a unique perspective to T-dot punk.
Careers in Science
Another fun, fast punk band from Toronto with Influences from mainstream punk to American hardcore and 80s underground. If you like sweet, catchy new wave-influenced riffs with your punk, be sure to listen to these boys.
Crutch
Hailing from Niagra, Ontario, Crutch have a deafeningly unique style of loudness. Having played in venues like The Opera House, Rockford's House of Rock and the famed Lee's Palace, they are becoming widely known for putting on one awesome live performance!
The Dirty Mags
Loud and ferocious, the Dirty Mags are punk on a bender. Signed to Toronto's local White Girl Records after forming in 2010, their sound is fast, high octane and fun, but don't ask these boys to borrow money because most of their songs are about being broke.
Eikostate
Let me ask you a simple question: do you like electroshock therapy in the form of music? What you see is what you get with these Barcelona men. Get ready for the biblical tribulation in your ear!
Endast
Endast will make you taste the blood running down your nose from moshing too long. I know because that's what happen to me the last time I saw their show! After a few hours after seeing these Montreal metal kings, you will still be hearing them in your head. Prepare for internal metal recordings.
Endless Dark
Imagine the sounds of volcanoes erupting, shattered glaciers and melting fjords. That's the only way to describe this youthful metal band from Iceland. These boys are on the cutting edge of metal and with their soon to be released COLD, HARD DECEMBER they hope to take the Canadian Metal Scene by storm!
Fade
Do you like to listen to metal while chowing down on sushi? If so, then japaneese 80s hair metal band Fade is the band for you. They are looking forward to making their first splash in Canada. Fade have had sucess in the Japaneese scene and so we wish them well as they tour the Artic Tundra, also known as Canada.
Forever Came Calling
From California, Forever Came Calling are an irreverent group of punk kids who just want to ding a few ballads for an audience. Known for their fast and highly enjoyable ditties, this is one band you might want to check out.
Goddamn Robots
Goddamn Robots are four guys from different bands (Seconds to Go, The Junction, Crash Parallel) who still find a way to disappoint their parents by playing punk music for no money, but their overdrive sound does impress.
Greater Than Giants
These Edmonton dudes are just out to have a great time. Looking forward to bouncing my head around to their catchy new punk tunes.
I Call Fives
These New Jersy punks were formed in 2006, but now after touring and partying their hearts out, they're ready to settle down… nah, just kidding!
Impeding Doom
Are Impending Doom the harbingers of the apocalypse? Maybe. They are indeed bringers of pure metal light. There's not a lot of Christian metal bands, but they are certainly one of the best Christian metal bands to see and are also definitely one of the most sucessfull bands at this year's CMW, selling over 70 000 records worldwide.
Job For a Cowboy
Job For A Cowboy are a heavy powerhouse metal band who have had great success over the past few years. Their EP Doom reached the top 100 of the Billboard charts and they are one of the leading metal bands at CMW.
Phat Jesus
With members coming from Montreal and Nova Scotia, this group of guys like to blast out fat rhythms and employ only the most honest of beats, mixing punk, psychedelic and funk elements.