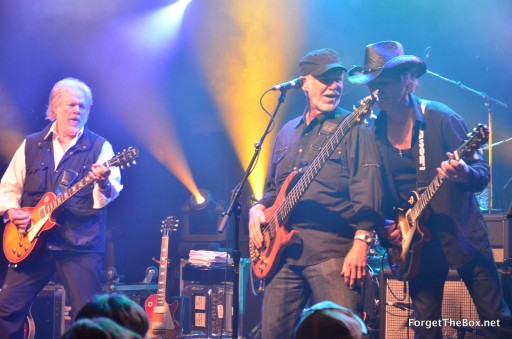 Canadian Music Week on Friday night led to many unexpected twists, turns, and surprise special guests.
With my photographer Chris Zacchia by my side, anything and everything was possible, which included accidentally attending performances by The Sadies with Ron Sexsmith, and Bachman and Turner with Sammy Hagar.
It was a strange kind of dreamy night where wandering around could lead to anything. Many of the new "independent" bands   and performers we saw were also having the time of their life and were really fun to watch. This is what happened:
The Sadies @ The Mod Club
The Mod Club is brought to you by Sirius satellite radio (they pay me every time I write that- just kidding!). The Mod Club is a warehouse of music with a table to one side. The place was fully packed with an older, industry and media related crowd. But that doesn't mean you can't sit there and enjoy music with them; especially if it's the country twang rock of The Sadies.
Even though the venue wasn't my scene, it was great to see the very talented work of The Sadies. They played many of their songs their full length Darker Circle. The new material sounded great. The also played some of their older tracks towards the end of the set such as, Another Year Again.
I have to say, the highlight of my evening was when they did their famous hand switch trick; doing it while playing complex country riffs was jaw dropping. Toward the end of the concert the surprise appearance by Canadian icon Ron Sexsmith only added to an already masterful experience. Being in a room with this much talent – it was getting difficult to breathe. What more could have happen? Well…
Bachman, Turner and Sammy Hagar @ The Mod Club
How about special guests Bachman and Turner. I told Chris, if we were going to go see the band formally known as BTO, the only song I wanted to hear was Taking Care of Business. In between this, we went to check out a few shows at the Revival Space and as we re-approached the Mod Club, I though I heard that famous Turner bassline. Could it be? Did we catch the end of the show and were they playing my song?
When we got inside, Bachman, Turner and – to my surprise – special guest Sammy Hagar (former lead singer of Van Halen) were playing my song. Yes! Sammy on stage with two other icons was just exulting. Lets just say I didn't stop smiling all evening.
Gabby Young @ Revival

The only real way I can describe the musical style of Gabby Young is to say her music sounds like the way she dresses: folksy and surreal. I didn't know the names of the songs she played on Friday night, although, they were really good. I had never seen her before but I wanted to hear more. Accompanied by three trumpet players and drums it was her sweet British accent that charmed the crowd. Her style is kind of like gypsy folk music with a dash of oompah. When the trumpets come to reign on judgment day, I hope she welcomes me in – because damn! She is one snappy dresser.
Maylee Todd & Pegwee Power @ Revival
Following Gabby Young's performance I accidentally ran into Maylee Todd & Pegwee Power at the Revival venue. Their music is quite enjoyable when they bring out the funk. They're definitely one of those bands I could find myself breaking down to at 1 am, although I found their slower stuff slightly droning and repetitive. But it's Maylee's excellent voice and ability to carry a tune that makes me hope to see and hear more of them in the future!
Photo & Videos by Chris Zacchia