Colin James came and tore it up at Lee's Palace on Wednesday night.  Playing to an extremely excited sold-out crowd who demanded two encores from the Canadian icon, James delivered an incredible performance that showcased his talent in both the blues and rock genres that his music touches on. Women were screaming in a way somewhat reminiscent of Beatlemania years ago. James, always a crowd pleaser, came down off the stage and into the audience at one point which heightened the already charged atmosphere.
It was a highly entertaining show.  It's easy to see why James has done so well for himself over his career, already having been nominated for fifteen Juno awards and winning six. He hit every note, ripped it up during every guitar solo (and there were many) and played with the energy and enthusiasm of a young go-getter.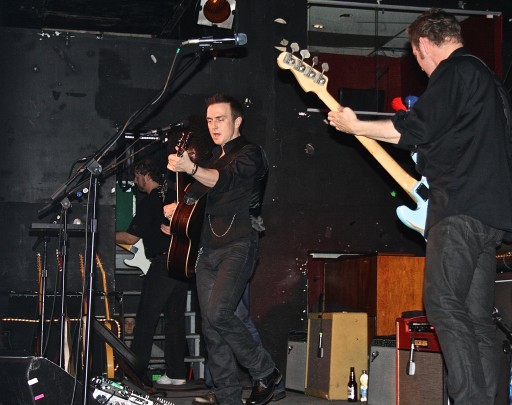 The band, made up of Chris Caddell (guitar), Maury LaFoy (bass), Al Webster (drums) and cutie Jesse O'Brien (piano/organ) played some of James's older hits including a wonderful cover of Into the Mystic some tunes from FIFTEEN, his aptly titled fifteenth studio release that came out last year, and also many songs from his live album, TWENTY FIVE LIVE, which marks the twenty-fifth year of his illustrious music career and was released just this month.
James was inducted into the Canadian Music Industry Hall of Fame on Thursday night by long-time friends Tom Wilson and Colin Linden of Blackie and the Rodeo Kings. Whether young or old, there's something for everyone to appreciate in the music of this exceptional artist.  Check out a live performance of "Keep On Loving Me Baby" here :