The night of Cora Kim's CD launch was a classy affair, with a sense of quiet, composed beauty filling the room. Candles and small dishes of exotic candies were scattered around the room, and Cora Kim's merch table included a few beautiful handmade necklaces alongside her albums.
After Doc'trin's masterful spinning to warm up the night, the evening opened with Beatrice Cornet. Clearly comfortable onstage, this young artist performed alone, relying only on her very controlled voice and the dark and slow pre-recorded beats coming from her laptop. She sings with a lot of soul and has a good sense of timing, meandering over notes and always hitting them bang on. She writes and composes her own songs, sometimes with the help of her sister, and her original musical arrangements feature little embellishments of guitar and keys.
Next up was Unbuttoned, friends of Kim's brought in from the Tdot. They had a bit more trash to them than the other performers, which I appreciated. A little bit more drive and head bopping. Unbuttoned are a four-piece fronted by two very talented vocalists who harmonize well and have lots soul and talent. Driven by keys, accented occasionally with xylophones, Unbuttoned are jazzy, soulful, and tight, executing the half-note dead stops in the middle of a song that always seem draw me in, no matter who's playing. They seemed happy to be playing for us, and happy for Kim, which added to the warm, festive feeling of the night.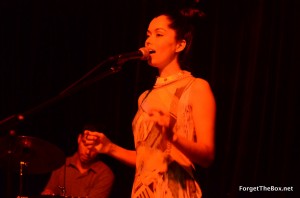 Finally it was time for Kim's band to hit the stage. Cora Kim is a singer/songwriter backed by a drummer and a keyboardist/guitarist, while she plays her Alesis keyboard and midi sampler. Together they make textured low-fi pop that perfectly backs Kim's sultry vocals. The heavy chords resonate in your chest, Kim's keys chime, and the level of distortion would sometimes give their darker, more droning jams an almost shoegazer quality. Kim also spiced up the night by drawing on her Korean heritage, singing popular folk songs from Korea that I wish I could understand. I especially appreciated these songs, the way the pentatonic scales so common to Korean startle an ear so used to our Western scales. It's probably not very often that these songs have been performed on such non-traditional instruments and with such distortion, either.
If you missed your chance to get a copy of Kim's new album at the launch, consider heading over to her website! Her album is on sale there, and you can sample some of her songs before buying, as well.