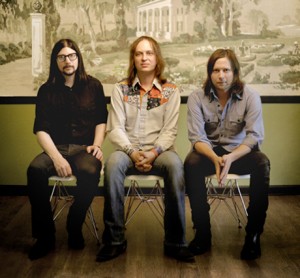 Maybe I should have taken the freezy-rainy-snowy blizzard as an omen?
This past Sunday night my two friends and I were white-knuckling-it back to Toronto, driving double the speed limit, in order to catch The Greenhornes at the Horseshoe.
Having seen the show and now digested it, I wouldn't even brave walking three city blocks on a clear, temperate day to watch this band!
Unfortunately, due to the weather, I missed the opener Hacienda. I was looking forward to seeing these guys their tunes are crunchy, fun and boast some solid vocal harmonies. Check out She's Got a Hold on Me, a fuzzy, upbeat number with a sweet, early-Beatles flavour and hilariously cheeky video.
When we finally arrived at the Horseshoe, The Greenhornes had just started and were in the middle of   Too Much Sorrow from 2002's Dual Mono. The room was pretty packed. People seemed warmed up and ready to go. Bottles were clinking in drunken cheer, friends were reuniting and catching up on the weekend's events, some guy in plaid was practicing his charming bar-lean in hopes to catch the eye of a young hipster gal. All were having a jolly time it seemed.
Then I locked my gaze on leadman, Craig Fox, and diverted it for no more than thirty seconds for the remainder of the night. A total car-wreck situation! Either too drugged-up or not nearly enough, Fox dumbly stared at spots on the ceiling for extended periods, struggled to choke back yawns, while playing long games of "who-can-stay-stiller" with his mic stand.
He grinned at one point for a few seconds, but was likely just thinking of something funny he saw on television earlier that day. I imagine behind his buggy, glazed-over eyes he was just listing all the places in the world he'd rather be. Is it still cool to be a mopey, apathetic musician? If not, Craig Fox is by far the most uninteresting performer I've ever seen.
The band slogged through their catalogue, which all seemed to blend together, given that no one on stage (especially Fox) really cared about playing. I snapped out of my fascination with Fox when bassist Jack Lawrence took over the singing on Go Tell Henry from their latest, Four Stars. Lawrence's boyish, wavering voice was a much needed change of focus, but every once in a while I felt responsible to check back on Fox to make sure he hadn't fallen asleep or died on his feet.
Despite their lack-luster performance, Horseshoers brought The Greenhornes back out for an encore with cheers I don't think the band deserved in the slightest. Before their encore, Jack Lawrence said sarcastically, "Quiet down, don't you know this is a rock show," suggesting that the audience was not loud enough. Does Craig Fox know this is a rock show? Does Craig Fox know where he is or how he got here?
Also, crowd volume is usually a good indication as to how well a band has performed. So, perhaps the onus is not purely on us, Jack. After all, you have to give us something to clap about first. What a disrespectful and snobby comment to have to accept after being conned out of fifteen bucks to watch paint dry at this alleged "rock show."
It's a real shame. Drummer, Patrick Keeler was actually quite high-energy and fun to watch. He was given a few spots to really shine during instrumental breaks and did finales standing up, crashing down hard on his cymbals. He also genuinely thanked the audience for their applause. Maybe The Greenhornes should put him up front: the audience won't miss Craig Fox and it will give Fox the chance to be alone in a corner with his thoughts like he wants. Lame!
Photo Courtesy of Exclaim magazine