Sasha Manoli has done it again. She's created a hilarious concept and brought it to life with Friday night's Crayon Party! show. I last saw Sasha at Le Belmont where another one of her creative gems, the Liar Liar Show, was being held. This time around, the crowd was snugly huddled around small round tables in the cozy interior of Theatre St-Catherine; a more intimate space where you can get to know your table-neighbours by stealing glances over your shoulder at their magnificent crayon drawings and realizing your own artistic ambitions stand no chance. What I really mean is that my red and purple flowers had no hope of survival next to my table-neighbour's dead-on portrait of one of the evening's comics, Chris Betts. No free beer for me.
So now that you're scratching your head with the puzzle pieces I just threw at you—Chris Betts? Crayons? Drawing with crayons?—I'll piece the evening together. The theme of the show was "the future," and each comic was given crayons and paper beforehand to draw how they saw the future. Then they each took the stage for seven minutes, where their drawing was projected on a giant screen so they could explain what their wavy squiggles* meant.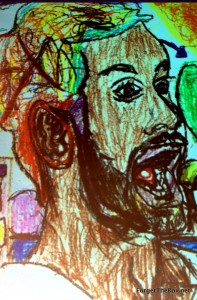 * (Although crayon drawings, Faisal Butt's in particular, were pretty damn good.)
Every table had two cups filled with classic Crayola crayon colors (remember blue-green??) and a dozen sheets of paper. This is because we got to draw crayon pictures too, which would later be judged in an audience-wide drawing contest. Waiting for the show to get started, Chris Zacchia and I decided to put these art supplies to good use and make ourselves some costumes. Why not? Crayons and costumes go together like peanut butter and jam, which all evoke images of preschoolers, but whatever. A few minutes later, Zacchia, who came in a cowboy hat and his trademark cowboy boots, had a paper sheriff's star pinned to his shirt, and I had paper cat ears and eyeliner whiskers to go with my cheetah print top. Go team ForgetTheBox!
All eyes were on Asaf Gerchak, the Crayon Party!'s host, as he captured the audience's attention with his exuberant presence. Asaf has this way of commanding attention in the most humble way possible; he makes you feel at ease, even as he's yelling at you to keep drawing your crayon pictures, demanding only the highest quality of Crayola artwork.
Between Robby Hoffman, Rodney Ramsey, Chris Betts, Bianca Yates, Morgan O'Shea and the aforementioned crayon master, Faisal Butt, I've gotta say—the future looks terrifying. Rodney foresaw Google Brain, which may or may not be disturbingly accurate. "What exactly is Google Brain?" you may ask. Well, it's obviously a microchip that's inserted into your brain to instantly answer all your questions—no dealing with slow shitty internet connection with Google Brain! And what does Google Brain look like? Like an antenna sticking out of your futuristic robot head. Duh.
Rodney's a comedian I'll be on the lookout for in the near [Google Brain-less] future. He got totally into his hilarious routine and looked like he was having just as much fun as I was watching him. And, I mean, Google Brain? The guy's obviously a genius who knows what's up: "Google's like God, but with answers." Amazing.
A tri-boob robo-wife is in Chris Betts' future, all dressed up in a waxy yellow dress. With total conviction, Chris made this seem like a normal concept, and hey, who's to say it won't be? I snorted a little when he proclaimed "don't be weirded out—everyone's robo-sexual in the future!" When I last saw Chris on stage he was hosting the Liar Liar Show, and although he does stand-up fairly regularly around the city, this was my first time seeing him perform. Chris is another comic that makes me feel like I can relax in my chair and drink my beer without fear of some misogynist or totally off-colour remark making me cringe. There's nothing worse than watching a comic whose nervous energy creates blatant discomfort throughout the audience, and Chris Betts ain't that type.
Bianca Yates's crayon drawing was probably my favourite—because I could totally relate to her colourful squiggles that kind of resembled objects. A hot air balloon (of sorts) took up most of the page, with a stoned looking grannie hanging onto the strings. Bianca summed up her future with these seven beautiful words: "senility mixed with alcoholism hasn't failed anyone." Fact. I'm down!
Half-way through the show someone collected all of our crayon drawings, and each comic chose their favourite. No, I did not win a free beer. Neither did Zacchia, although his droopy nipple drawing did elicit a response from Faisal Butt. We're pure class over here at ForgetTheBox.
Even though my loopy crayon flowers didn't achieve critical acclaim, I still got to dress like a cat and sit in the front row of a cozy theatre watching some fucking hilarious comedy. The Crayon Party! was everything I hoped it would be, and I truly can't wait to see what Sasha Manoli comes up with next!