There are two things I do rarely: attend comedy shows and go to crescent Street. The former is something I strive to fix while the latter is…um…not. Last Friday, I did both when the FTB team went to The Comedy Lounge at Karina's.
Karina's, for those who don't know, is the rather swanky-looking space on top of Sir Winston CheapThrills (credit Todd for that line) on, you guessed it, Crescent Street in downtown Montreal. While clearly high class-looking, the vibe in the place was, fortunately, down and dirty.
From Bruno Ly's observations on people giving up work because of someone famous in the family to Kevin "blowjob machine" Coughlin's (let's hope that nickname sticks) happy news report on all the female eye candy on the corner of Crescent and de Maisonneuve (hey, it's not all bad) to stand-in host Kris Dulgar keeping it all together, these comedians made me feel at home, laughing amongst all this luxury.
Even the group of (presumably) tourists who entered before us and promptly left made me feel at home by saying it wasn't what they had expected. They had reserved for dinner and Karina's does have a reportedly great kitchen with plenty of tasteful offerings, the menu this evening was drinks, laughs and popcorn and not the kind of bar popcorn that makes you wish you hadn't (think Bifteck, fellow Plat Rats), no, this was tasty, buttery, yummy, classy popcorn and it was aplenty (for me at least, sorry folks at my table).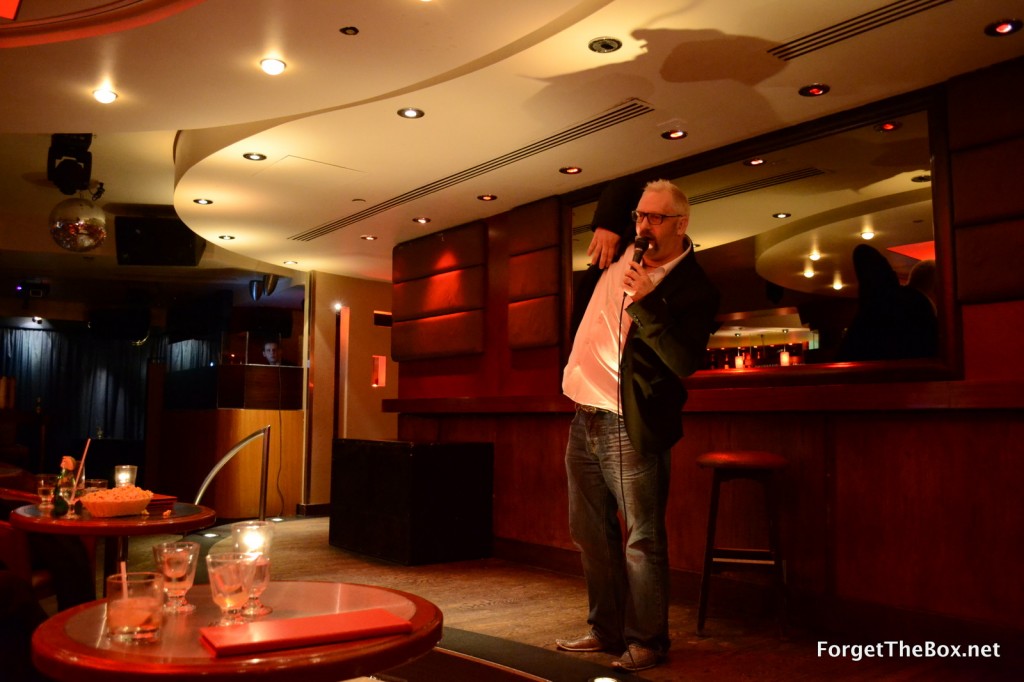 But beyond all the tasty kernels and talented comedians, the night clearly belonged to headliner Devil Dan Derkson. A veteran of the Montreal comedy scene, Derkson clearly felt at home in front of this crowd, which probably would feel just as much at home in some underground loft or club.
While all of Derkson's set was funny and high energy, his take on fetishes was the standout part for me. I swear I will never feel the same way about foot fetishes again.
Just like I swear I will never see Crescent Street the same way again, well, maybe not. But at least when the Comedy Lounge is up and running, it's quite a funny place after all.
The Comedy Lounge runs one Saturday every month, in Montreal at Karina's, 1455 Crescent and in Toronto at Lambadina Restaurant and Lounge, 875 Bloor. For more: comedylounge.ca
photos by Chris Zacchia