The Ethnic Show is described by Just for Laughs as "a cultural melting pot for comedy". This year is its ninth edition and comedians from a variety of backgrounds are here to show their comedic mettle. Some are well-known, some less so, but one thing is for certain, you're guaranteed a good time even if every style of comedy is not your thing.
This year's host is Alonzo Bodden, a last minute replacement for Maz Jobrani who had to drop out due to a family emergency. An African American comedian, Bodden's set began with an apology for Donald Trump, adding:
"Don't look at me, I'm black…This is on white people!"
This was not his only potshot at the Orange president, but the worst of his wrath was directed at US Secretary of Housing and Urban Development Ben Carson, whom he none-too-subtly suggested was a modern Uncle Tom. Direct and brutal, Bodden proved himself a worthy host and I overheard many audience members praising him as the best act of the show.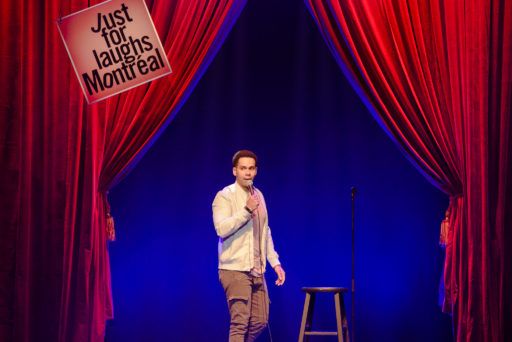 Next up was Vladimir Camaño, a Dominican American from the Bronx. Of all the acts that night, Camaño's was the most physical and interesting to watch, as he uses a lot of animal references in his act and manages to contort his body to represent everything from a deer to pigeons. His material is a combination of mocking his Dominican father and potshots at rich people but his best jokes were about sex which managed to be both self-deprecating and original.
Third in line was Mike Rita, a Portuguese Canadian who performed at last year's Homegrown Comics Show. His material is reminiscent of Russell Peters in that it's all about growing up with immigrant parents and how widely their beliefs and attitudes differ from North Americans. Like Peters, he imitates his parents right down to their accents and though most of his jokes were the same ones he told last year, Rita's energy manages to keep it funny despite the lack of originality.
Before mentioning the next act, it should be said that I am not a fan of musical comedy acts and I fully acknowledge my prejudice. Musical comedy acts often consist of either great musicians and lousy comedians or vice versa, and sooner or later said acts fade into obscurity, realizing that not everyone can be Weird Al.
Somehow the next act proved to be neither.
Said act is The Do Wops, a musical comedy duo of John Catucci – known to Food Network fans as the former star of You Gotta Eat Here!– and David Mesiano, a couple of Italian guys who asked that they be described as:
"One plays the guitar, the other is an asshole."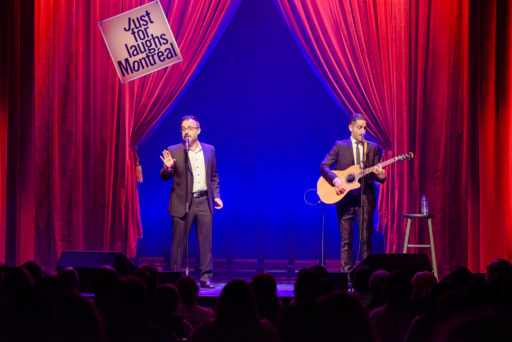 Catucci, the "asshole" of the group, danced, sang and girated while Mesiano played guitar and sang along. Their jokes were funny and there's no doubt that they can both sing, but somehow the comedy and music didn't quite mesh and they were actually funnier when there was no musical accompaniment.
The whole thing reminded me of an exchange between Groucho and Chico Marx in the 1930 film Animal Crackers when Groucho asks Chico, a musician, what he charges not to play. "You couldn't afford it" is the reply.
The Do Wops were followed by Steve Byrne, a Korean and Irish American who has been doing comedy for twenty years.
Of all the performers that night, he was the only one to do an imitation of the American president. Though Byrne's take on the Orange man's voice was on the Satanic side, it was appropriate given the latter's behavior. If there's one word to describe Steve Byrne, it's fearless. He doesn't just take jabs at his fellow Asians, mercilessly tackling stereotypes, but also takes jabs at Jews and Caucasians.
In this respect his act started out strong. Unfortunately, about halfway through it went downhill as he started ranting about Millenials.
I understand why comedians and people in general take potshots at young people. We don't tolerate racism, or sexism, or homophobia, or transphobia, and we make demands that people be respectful and pay fair wages. Rather than take responsibility for bad behavior, it's easier to shift blame back onto victims by calling them whiny and entitled. I also understand that older people have the money to buy tickets to big comedy shows – much if not most of the audience were baby boomers – and many younger attendees are there on someone else's charity, so it's perfectly natural to want to pander.
That said, taking shots at Millenials seems incredibly lazy, as most of the material talking about the evils of safe spaces and accusing young people of being soft has already been written a hundred times over by every entitled baby boomer with an internet connection.
Sadly, Byrne's bit about Millenials had nothing original in it, and prefacing it by saying he loved them couldn't save the rest of his act. At least older audience members were laughing.
Last to take the stage was Jessica Kirson, who boldly announced herself as "The Jew".
Jessica Kirson describes herself as a high energy comic and when you see her performance, you know it's absolutely true. She is the type of comedian who tells stories, but she tells them with the kind of energy that has you laughing hysterically while on the edge of your seat trying to hear more.
Like many comedians, she does impressions, but unlike other acts, she doesn't limit herself to family members and celebrities. No one from her elderly Jewish audiences in Florida to her Asian pedicurist were spared her impressions, which were so outlandish and exaggerated they managed not to be offensive.
Some would describe her as loud and shrill, but others, myself included, say she's brave and talented and knows it. Her most outstanding feat was combining a joke about kids and a joke about dildos in a way that wouldn't offend anyone except the worst of prudes.
But I'm not going to spoil that one.
Go see The Ethnic Show.
The Ethnic Show runs July 14-27, tickets available through hahaha.com
* Featured image of Alonzo Bodden courtesy Just for Laughs