Have you ever played Two Truths One Lie? If you haven't, it goes something like this: you tell two truths and one lie to a group of people, and they have to guess which is the false uttering. A misleading title, I know. But the point of the game, other than to pinpoint the lie, is to embellish your truths to seem like lies and hone your lie to seem believable. 'Tis a game of bewitching trickery and devious intentions.
Okay, so take this concept and apply it to a room full of adults, throw in some wine and beer for good measure, and top if off with three comedians wearing thick-framed glasses I thoroughly approve of (funny with awesome glasses? Check).
What do you get?
You get pleasingly raunchy stories about summer camp blow jobs, bathroom blow jobs, she-devil exes, stolen underwear, missed-out sexual encounters, lone adventures with precarious endings, bastard bunnies with insulting ears, and as not to disappoint, an abundance of stories about cum: gelatinous cum, salty cum, floating cum, caked-on cum and cum explosions.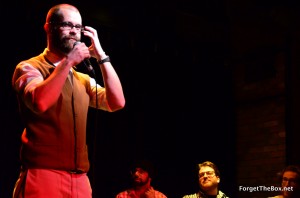 All this and more is what I got last week at the first ever Liar Liar Show. Asaf Gerchak, Dave Merheje, David Heti and host Chris Betts took to the stage and made me happy that I'd trudged through the shitty, cold night to see them. They also made me pee myself, FYI.
The breakdown was simple: three rounds with each comedian telling one story. That's three stories per round. During each round, only one comedian tells a bluff…but the stories were all outrageous, hilarious and borderline unbelievable, which made for a difficult decision at the end of each round. Because oh yeah, the audience got to vote!   Everyone was given a ballot, and after each round we had a moment to vote for the comedian suspected of telling damn dirty lies. When all three rounds were finished, the comedian who successfully beguiled us the most, won. And oh, what a sexy prize it was. (I'm not going to say, but it involved a semi naked self-portrait of Chris Betts, in an appropriately provocative pose. Oh shit, I just said.)
The audience participation angle that the Liar Liar Show is based around makes it fresh, fun and innovative. It keeps you involved in the action and allows for mini debates amongst your friends after each comic's tale. Also, the show was held at Le Belmont on St. Laurent, the perfect sized venue for keeping things cozy. With tall round bar tables and stools jammed close together, it's a space conducive to communal gatherings. Collectively, from one crammed table to the next, we can all laugh about cum 'cause we all know the deal.
Creating a sense of community is what creator and producer of the Liar Liar Show, Sasha Manoli, is aiming for. Having frequented the local comedy scene for the last few years, she knew there was a lot of talent in this city. So, when presented with the opportunity to produce a show, she jumped at it. "I really do love the idea of conceptual art…so I knew that I wanted to do something that had a structure and a strong concept behind it."
Manoli, originally from Ontario, is a graduate of Concordia's creative writing program and has been running a publishing company, With Words Press, for the past five years. "I'm a writer, I love art just generally, and I'm really invested. I'm also super invested in community."   As a writer involved in a tight-knit community herself, she understands the need to expand stagnant circles and keep vibrancy alive within the community. "It is small, and you kind of get to know the people that run the scene. That was sort of the idea to work towards, to expand the community a bit and just make it a little bit wider."
"I think Canada really needs a boost in that way, and that's also why paying the comics is huge for me, a lot of places don't… [It's all about] creating an economy in art…because we need to give it a value."
So let's make it happen. Keep your eyes peeled for the next Liar Liar Show, grab your friends and brave the slushy sidewalks for some heart-warming rye and raunchy comedy. This community has got a lot to offer, so spread the word, pay the cover, and give it the value it deserves.
Expand Your Comedic Horizons:
Catch Asaf Gerchak every Monday at Brutopia for a free hilarious evening of "Pub Quiz Trivia Thing".
Find Chris Betts performing at the Comedy Nest and Comedy Works.
Keep watch for David Heti performing stand-up around Montreal.
Sadly for Montrealers, David Merheje lives in Toronto, but see what he's up to and watch for tour dates on his website: http://www.davemerheje.com/.