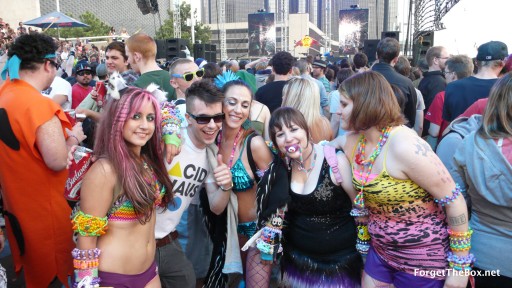 Covering an electronic music festival is like practicing extreme sports. No matter how careful you are, chances are you're going to end up wrecked.
The fun started in the car where we pumped up techno music during the 10 hour drive to Detroit for Movement 2011. We were already destroyed the first night but a disco nap gave us force to check the opening party with Cassy. It was taking place in a tiny basement bar, the Oslo. The place was really dark and the sound system was insane! Then we checked out a party where the legendary Juan Atkins was performing. We learned the hard way that bars can't serve alcohol after 2am. Thanks god we had three bottles of hard liquor in our hotel room and….the swimming pool was still open. Naked gin party was the way to go.
Woke up still drunk to make this interview with Aril Brikha (who turned out to be my favorite artist in the first day of festival).
Hey there! So, you're playing tonight on the Detroit stage. What's your set up like?
I use Ableton live and midi controllers.
Will you be playing a lot of your songs today?
I only play my own songs since it's a live set. I just don't know what to play yet. It's a bit nerve wracking. I still have to figure out how to work the new controller I got in Chicago two days ago. It may be stupid or it may be a good thing. The crowd seems to be really open-minded, so it's a good occasion to try new things! But, at the same time I did my first ever live set in Detroit in 99 so it's like coming home, and I get nervous because I know a lot of people here.
You just released a track on your own label Art of Vengeance. Do you plan on releasing tracks by other artists or it will remain your own music?
At the moment the reason why I started the label was to get my music out quicker than most labels usually do. At this point I just have too much music that I've been sitting on, and actually the thought of releasing other peoples' music was never on my mind until somebody actually mentioned it. But yeah! If I bump into something I like… and I have friends making music as well. If they have something that doesn't fit anywhere else and I like it, I'll put it on the label.
What are the other artists you want to check out during Movement?
Little Dragon, fellow Swedish band and I'm probably going to try to see more discoish artists like Morgan Geist and DJ Harvey (who unfortunately canceled the gig). I'm also going to check Adam Beyer. Hopefully I'll discover something new actually! That's what festivals are for…yeah or at least it should be! Rather than going to see the artists you already know.
The whole day was magic. Marc Houle (interview coming soon), Kerri Chandler and Aril Brikha were my highlights. Nothing beats the after party though. Omar-s proved that not only is he one of the best producers of the moment but, he's also the best dj! The party was taking place in a café so no alcohol was served…except upstairs where there was an illegal free bar with vodka and old Detroit legends like submerge owner. They accepted the little Montreal groupie in their crew. Maybe the tutu helped…at least it gave me free access to the party!
Photos by Mathieu Grondin