Within three minutes of meeting DeAnne Smith, it was clear that she's easy to like. I met up with the comedian at ComedyWorks, an old club whose dim lighting masks the sweat and blood from years and years of great comedy. At the top of the stairs I found a bathroom to wash bike grease off my hands, and incidentally, found DeAnne getting ready for that evening's show. Looking up and inquiring if we were "doing a thing," she set the tone for the super chill interview.
Stopping to say hi to a woman on the way out of ComedyWorks, and waving to the bartenders as we entered Grumpy's, it was also clear that these neighboring spaces are her stomping grounds, places she feels comfortable in and has spent a lot of time at since she started on the scene in 2005.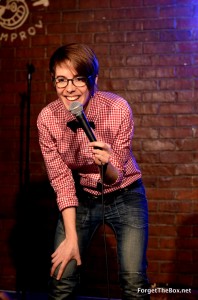 "When I started there was just two English speaking clubs, ComedyWorks and Comedy Nest, and there was a time when one of them didn't even have an open mic, so there was really nowhere for comedians to get stage time. So I started coming here, to Grumpy's, and crashing their open mic which was a hodgepodge of stuff. There was never comedy here then, there was just music and spoken word, and then I started doing comedy here and telling other people 'hey let's do it,' and now the open mic here is at least half comedy."
It's with this self-sufficient, get-shit-done attitude that DeAnne's created her own opportunities and accomplished an impressive amount in only a few short years. Responding to the lack performance opportunities, DeAnne created new stand-up shows at different venues, which came and went as she built her career. Comedy On The Main was the first of these shows, which she started with three other local comics. When the bar that hosted it shut down, they moved around the corner and the show continued for a few more years as Comedy Off The Main.
"It was just a weekly Wednesday night show" she says, "we had a really good time there. And it was fun, because a lot of us were coming up and didn't have stage time anywhere else, but were getting stage time there. And then we were getting better at comedy outside of the clubs, and then we all kind of busted back onto the scene better comedians, and nobody knew how that happened."
Stand Up Strip Down and Royal Riot are the most recent of DeAnne's comedic inventions. Like its name cleverly implies, Stand Up Strip Down combines comedy and burlesque, while Royal Riot is a monthly stand-up show at the Royal Phoenix.
DeAnne's travelled to some really cool places, doing stand-up in Edinburgh, London, Reykjavik, the Yukon and all over Australia. When I asked her how these opportunities came up she answered in the most modest and matter-of-fact way, "I just went after them." Bam!
"This year was really crazy because I realized I was riding a camel in the desert in Australia, and then I was like whoooaa, in less than six months –"
"Australia has camels??" (I really need to stop interrupting my interviewees)
"Yeah, they have a huge feral camel population. They're not even sure what the estimate is, but possibly up to a million or more camels roaming around in the desert."
"Nooo waay, a billion??" (Sigh. It came out before I could stop it)
"No, a million. Not a billion. So realized in less than six months I went from dog-sledding in the Yukon to riding camels in the desert in Australia, all in the name of comedy, which is amazing."
DeAnne's latest show, Living The Sweet Life, has already been around Australia in a five festival/three and a half month tour, and is about to start its five night run at Just For Laughs. "Playing Just For Laughs is great. Because it's the hometown, you know, I get to see friends from around the world that I don't usually see and all my friends from in town" says DeAnne. "I know a lot of the guys from doing stuff in Australia and stuff in the UK, so it's nice to be in your hometown. It transforms into something a little bit special. It feels like Christmas or something; like when mom and dad rearrange the furniture and bring in the Christmas tree and you're like 'wow! This is amazing!'"
Part sarcasm, part sincerity, the title "Living The Sweet Life" plays with the concept of how life is sometimes a wee bit pathetic, but actually pretty damn good when we stop and think about it. "The title came out of a joke that I do about this one time that I bought a weekly bus pass, and I was like super psyched that I had the weekly bus pass. And then the little voice in my head was like 'living the sweeeet life' and I was like oh my god, seriously? Let's have bigger goals and dreams DeAnne."
Continuing on, she explains "life is a tiny bit pathetic in those ways, but on the other hand we all live in Western society and we're all doing really really well by global standards. So I sneak in some social commentary, but it's maybe camouflaged among the ukulele tunes and dick jokes."
Excellent, who doesn't love uke tunes and penis jokes? Adding to the fun and debauchery, DeAnne chooses an audience member at each show to give "sweet life treatment" to for an extra special experience. She's leaving the details of what this all entails to our imaginations, but stresses that it's not a bad thing to sit in the front row.
Well, that all sounds great to me. I'm scraping together some bus money and getting there early for my front-row-center, cause baby, today's been a bitch and I need some sweet life treatment.
Her shows (part of Zoofest) are July 23rd, 24th, 25th 27th & 28th at 8:30 at Underworld
Tickets: DeAnne Smith Zoofest