As the Pop Montreal hangover finally wears off, it's time to look back on the many highlights:
1 Colouring Contest & Discovering New Bands, Thanks to Indyish:
What better activity to complement live, precious-sounding indie rock by pretty girls wearing vintage dresses than colouring? It was too dark to differentiate between the different coloured pencils inside 3 Minots, which added to the fun of the reveal when I saw my poster in the glow of the streetlamp. Since I'd been swilling a newly created beverage that strangely resembled McDonalds orange drink with a nasty aftertaste, I was surprised how well I kept to the lines.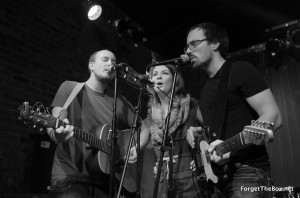 Holland Creek whetted my Pop appetite with their pleasant three-way harmonies and down home, stripped-down sound. The luscious 10-song album by Erik Virtanen and his some of favorite local guest musicians is available for free download at the website http://hollandcreekthemusic.com.
I was also impressed with Paper Garden Record's Little Tybee, here all the way from Georgia. Their songs were full of sonic twists and turns, interplay between guitar and electric violin juxtaposed with intriguing rhythms. I always dig a band that makes me want to listen to them more, one that doesn't give away all their tricks in the first few songs so that you're bored by the end of the set.
I wish I'd been able to stay for more of Hooded Fang, as they struck the chamber of my heart reserved for bouncy garage rock, but bed was calling as the minutes ticked away before work the next day.
2 Cutesy Graphic Design
The drink tickets are bright blue, and have a picture of a spilling beer bottle bearing the Pop Montreal logo. And cheesy as it may be, the little bird silhouette everywhere makes me smile.
3  Finally getting to see The Deep Dark Woods, at Petit Campus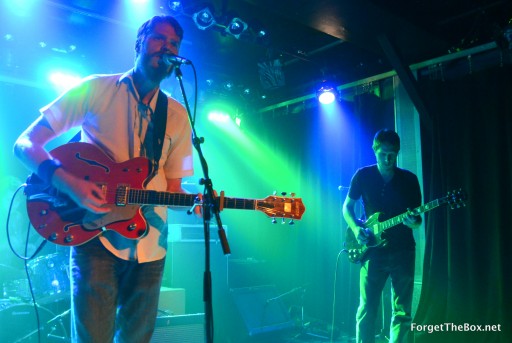 Hailing from my hometown of Saskatoon, Saskatchewan, I'd heard a lot about the power of the Deep Dark Woods live show. On the heels of their recent release "The Place I Left Behind", the five-piece boasts an alluring alt-country sound that evokes instant nostalgia. One reviewer stated that their music has a timeless sound, as you can't immediately identify its decade of origin.
With songs like "Hang Me, Oh Hang Me" and "Sugar Mama", they pay homage to the greats like The Band and Neil Young while keeping it fresh. Conjuring up grit and clarity at the same time isn't easy, but they make it look and sound effortless. Next time they pass through town, I'll ask them about their influences and how their music is shaped by their surroundings.
4 The Arcade Fire Block Party Spectacular
Initially, I considered not going, as I figured the free outdoor Arcade Fire show would be too much of a gong show for my liking. But then I snapped out of it: when else are you going to get to see one of your favorite bands, for FREE?
At first, it seemed like a good idea to sandwich ourselves in with the mass facing the stage, getting as far ahead as we could until the shoulder barriers became impenetrable. One miracle text from a friend with a better spot, two hopped fences and we were out of there.
I can't disclose the exact location of our secret spot, but let me just say, when you can't go forward, go up. Privacy, the perfect view and room to dance simply made for a legendary evening. Nothing like swaying with your friends, belting along to "Wake Up". I couldn't understand why everyone around us was watching quietly with their arms folded.
Security took it upon themselves to try and end our fun just as the band gloriously launched into my personal favorite, "Rebellion (Lies)". We pleaded for one more song, and they stonewalled us. We fought back by dancing our way to the door and buying time with desperate measures like untying each other's shoes, all the while ignoring their staunch glare. We made it to the end of the song though, and that truly made my night.
So thank you Arcade Fire and thank you Pop Montreal for another awesome year full of new bands and old favorites!