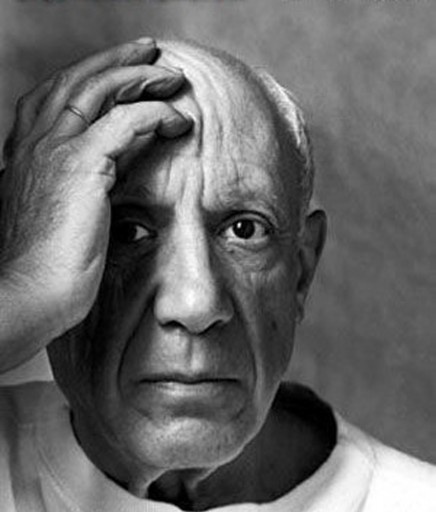 At Guggenheim New York next week there will be a reading of the infamous Picasso's surrealistic play Le Désir attrapé par la queue to coincide with the gallery's Black and White Exhibition of the artist. The play which will be staged on the 8th and 15th of October is directed by Anne Bogart.
The cast performing includes the writer John Guare, Diana Picasso who is the artist's granddaughter, and the director of Guggenheim Richard Armstrong as Silence, which is one of many surreal characters like Big Blonde Curtain, Big Foot and Onion.
The play was first premiered at the writer Michel Leiris' home in Paris in March 1944 and was performed by Jean-Paul Sartre, Simone de Beauvoir and Valentine Hugo the artist who was the wife of Jean Hugo the great-grandson of Victor Hugo. The original performance was directed by Albert Camus and featured Picasso himself.
Guggenheim revived the play previously in 1984 with the cast including Louise Bourgeois and the British artist David Hockney, and next week the play will once again be captivating audiences with its hallucinogenic acts and reparative randomness of dialogue. In the second act five pairs of feet outside hotel rooms will be chanting: "My chilblains, My chilblains, My chilblains" before a voice from the stage will be calling: "the dancing shadows of five monkeys eating carrots".
Picasso has been reported to have composed the play in 1941 during four days of illness which explains the dreamlike sequences of the acts and the non-linear absurdity of the whole thing. Picasso and the Surrealists were contemporary and it is likely that they were influenced by one another.  André Breton the founder of the Surrealist movement even included Picasso in the Surrealist manifestoes of 1924 and 1929.
Picasso was close friends with Guillaume Apollinaire who first mentions the word Surrealism and it is where the movement's name derives from. He was also friends with the Surrealist poet Paul Eluard in the 30s and even indulged in writing poetry that was influenced by Automatic writing. However, Picasso never saw himself as a surrealist and was always unique in his voice and style, so labelling his work as definitive Surrealism is improper, yet the influences are there and can be explored.
Writing, painting or performing through tapping into the unconscious was a significant method adopted by the Surrealist, and there are evidences of artists and writers reporting and painting their experiences after lack of sleep or when ill. The notion that true clarity can come from the unconscious had routs in the work of Sigmund Freud and the birth of psychotherapy, which André Breton had become familiar with when working during World War I in a neurological ward in Nantes.
Joan Miró wrote about how after being food deprived and failing to sleep for a few days he would see shapes and colour on the ceiling of his bedroom which he then would proceed to draw and paint onto a canvas. Other Surrealist writers and artists speak of similar experiences which then they used as inspiration. When it came to performances, Surrealism had been much influenced by Dada and their hypnotic and nonsensical shows at bars and on stage.
In many ways Picasso's Le Désir attrapé par la queue can be seen as influenced by these movements, and I see it as homage by the artist, because it is so different from the work Picasso had done and he never pursued it wholeheartedly afterward. Yet its distinctiveness and exceptionality is all there and above all it is fun and entertaining.
Picasso Black and White will be at Guggenheim New York from October 5, 2012 until January 23, 2013