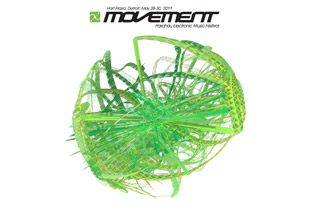 In a couple of days I'll be heading to Detroit to attend one of the most exciting electronic music festivals in North America: Movement. Not only is the line-up incredible, but it's also taking place in a city steeped in music history. This will be my first pilgrimage to the city that gave birth to techno music and I'll be there from May 27th to May 30th,   keeping you posted on the great stuff happening there. I'll also be doing some interviews with the artists I respect the most.
The festival only lasts three days, but with all the artists booked I'm really not sure if I'll have time to sleep. The festival goes from noon to midnight every day, and I'm not even going to get into the topic of after-parties today! Dj Harvey, Sven Väth, Carl Craig, Paul Kalkbrenner, Justin Martin (an interview I did with him will be up soon),  Ben Klock, Richie Hawtin and many, many more will keep festival goers dancing all week-end. Not to mention the legendary Ricardo Villalobos, who was confirmed last week to perform at both the festival and an after-party on a boat!!!
Here's an interview I did with Jason Huvaere, Director of Operations for Movement Electronic Music Festival.
When did the festival start? What gave you the idea to start a festival like this?
The festival, now in its 12th year, has taken many twists and turns prior to our organization, Paxahau, becoming the producer in 2006 but the essence of it has not changed.  It is still an event that is all about the music and the people who love it so much.  Since 2006 we have worked to improve upon each year's production, and put together a line-up that is representative of where the music is today.  As the music evolves so will our festival.  Movement today, unlike when it first started, is an international music festival, and we intend to maintain that status for years to come.
Is there any incident that made you regret being a festival promoter?
I don't really get to dance anymore, and we are exposed to challenges that remind us of the magnitude of the responsibilities we have accepted.
Which booking are you the proudest of this year?
Each artist who performs at Movement is important to the overall experience of the event for fans.  We are proud to have them all at Movement Electronic Music Festival.  Dr. Atmo and Sven Vath are the two I think of first.  They have been with us in heart since the beginning of the Detroit scene but these are their first performances at the festival.
What is the spirit of the festival? What should you expect if it's your first time attending Movement?
It is a very friendly, community oriented environment.  If you are a person who truly appreciates electronic music you will find that there are many people like you who are in attendance.  Expect to dance.  There are five stages and each one has something going on and the performances will have you moving your feet and body all day long.  You should dress for the weather.  Be sure to have comfortable shoes on.
For anyone who want to experience the city outside the Hart Plaza, what are the must-sees in Detroit?
We have many great venues and restaurants.  We encourage people to explore while they are in Detroit.  We have partnered with a bike rental shop in the city called Wheelhouse Detroit and they are giving tours of the city.  We think people should take advantage of that … it will give you a sense of history and a great tour of the city and its Techno landmarks.  The website www.digdowntown.com has a lot of great listings.
The festival will also promote visual art. Paxahau have teamed up with Creative Corridor Center (DC3) and Community Arts Moving Projects (CAMP Detroit).  DC3 and CAMP Detroit reached out to their artist networks to seek applicants from Detroit's creative community to submit a proposal for their installation idea.  More than fifty artists showed interest in the project, and in the end six installations were selected.   The installations represent a wide range of mediums. Most will be interactive. Some will be technically complex and involve electronics. Each is sure to inspire. The artists who developed the installations include recent art school graduates, community arts leaders, architects, graphic designers, and electronic and mechanical engineers.
Time to get ready…well to sleep as much as possible so I can go on a 3-days no sleep diet!
If you're not able to make it to Detroit this year no worries! You'll be able to catch the event online!
On May 28, 29, and 30 from noon until midnight fans of electronic music will be able to visit www.ResidentAdvisor.net to access five media players being powered by the folks at www.Awdio.com to hear live performances from six of the festival's stages.
For those interested in seeing the creative side of Detroit, there's a great documentary made by Johnny Knoxville who shows us the positive aspects of the city. Watch it here: http://www.vbs.tv/en-ca/watch/uneven-terrain/palladium-detroit-full-new-credits–3