Ever send a text message you regret? It has been crafted, a well written expression of love and lust that will be sure to win their heart or at least grant you some quality time with their naughty bits. All typed. Ok here it goes, press send. DELIVERED. No taking it back now. Oh hell, what will he think, why hasn't he looked at it yet, it's been two whole seconds! READ Ahhh! It's the moment I've been waiting for. Then I wait and wait some more, no response. Life is over. 🙁
First there were newspaper personals, then on to chat rooms (ASL?). fast forward to Hot or Not, Friendster, Plenty of Fish, and the infamous Myspace. Now Tinder, Grinder, OKCupid, Facecrack, Craigslist, text messaging and social media in general have changed the way people look for sex and romance in this modern (technology obsessed) world.
Imagine having to walk into a bar and actually being forced to strike up a conversation with an attractive human?! Holy shit! You mean I don't get to know what his quirky hobbies, food allergies, and favorite ironic tv shows are beforehand? Can you really ever "know" someone without seeing their "profile" first? Sketchy.
It's so easy to browse for a mate with the swipe of a finger and a tracking system that lets you know how close they are to you! Only 20 feet away, now 10, only 6, and fast approaching. He is much shorter than it says, I wonder what else he lied about? Oh well, YOLO. Wow, stalking, I mean dating, has never been so convenient. Do you like scary movies?
There is a glow: illuminated face, eyes glazed and dilated, mouth slightly ajar, a small puddle of drool forms, and a muscular thumb ferociously taps away. Everywhere you look, from the darkened movie theatre to the family dinner table, there are people of all ages with their faces in their beloved phones.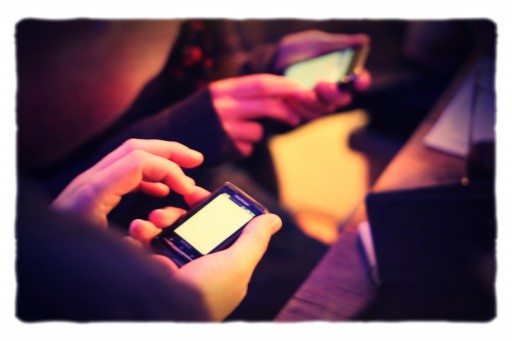 Just think, most of these people are typing the filthiest things, sexting, and trying to get some action. These things are too dirty to even mention here. At any given moment there are probably millions of #selfie boob shots and even double that in dick pics being sent through the digital waves all around us.
What happened to "I'll show you mine if you show me yours?" I actually have a back log of all the unsolicited dick pics sent my way. Some big, some not as big, curved to the left or right, hard as a rock, slightly chubby, cut, uncut, veiny, lots of pubes, or diligently manscaped.
My usual response is to send a big bulging ween right back to them. I recycle the ridiculous cock shots sent by others and claim them as my own flopping member. I hope these bros have learned a lesson. What did you expect me to send a lovey shot of my snatch instead? Not saying my bearded clam isn't absolutely gorgeous, she's just modest and looks kind of fat in pics.
It's not ok to whip your dick out in public, what makes you think its cool to send it to my inbox? People hide behind technology. They feel a sense of confidence and sassiness that is unmatched. When you send a message, you can edit it and say just the right thing. There is no chance of being instantly rejected, slapped, or arrested for indecent exposure like in "real" life.
Call me old fashioned but there is no substitute for falling in love in person. That moment when you meet someone for the first time and just stop breathing. Your heartbeat changes. You lock eyes and melt into a puddle of dreams, hopes, and lust. All you can say is jibberish or nothing at all.
Love transforms us into babbling idiots, and that's how it is supposed to be! The journey then begins, you get to ask him about the things he does, the places he has been, and explore the things that make him, well, him. It's beautiful. It takes time.
Sometimes we get shot down, and it hurts, but you have to keep getting up and living life. Love comes around when you aren't looking for it. You never know, the man reading Nietzsche at the coffee shop, the person baring their soul on stage, or the woman pumping gas next to you might be the one you have been looking for all along.
Life is too short to hide behind technology. Don't get me wrong, I use and abuse it too, I have sent texts that I am not proud of and gone on dates that are even more unmentionable. I have even written a misconnection or two.
I'm sure there will be those who argue with me on this, that small percentage of folks who have met their soulmate on Christian Mingle and have lived happily ever after. But in general things that are fast are not good. Instead of emerging yourself in the digital sex trade please set down your phone, power down the tablet, close the laptop, brush your hair, put on a clean shirt, and get out there! You look great today btw.
Say hi to the next attractive person you see. (Hint: the hottest ones are generally the most insecure because they are so hot that nobody actually speaks to them). Keep your head up and always remember that you are a unique, totally interesting, confident, and incredible human. You are not afraid to have real face to face interaction and live life to the fullest. Go get 'em, tiger! I believe in you.
Phil Campbell, Flicker CC