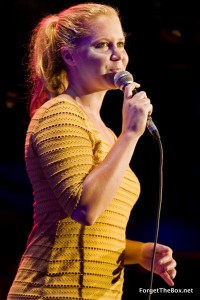 There is one thing I would never want to be… and that is Amy Schumer's ex-boyfriend. I know this for certain because Anthony Jeselnik, who opened for Amy, was her ex and he was on the hot seat the entire evening.
It was my first day at Zoofest, so I decided to see one of the filthiest comics at this years festival. She was playing at the dark pit known as The Catacombs. Opening for Amy was Anthony, who started the night with some hilarious jokes about his personal dating experiences with the headliner. It's hard to believe the man lived to tell such harmful tales. But he doesn't seem to really give a shit anymore. Still he got the crowd warmed up by laughing at his failures and relationships.
Soon Amy would be up on stage, and she would have her revenge!
"There was a time when I wanted to start a family with Anthony…" Amy began her jabs at Anthony.
No subject, including "ass play," was too taboo for this feisty thirty year old. And her jokes were killer!
The audience had some serious trouble controlling their fits of laughter.
From porno, to families, to relationships, Amy navigates through topics with the ease of a brilliant tactician and the tightness of a mature comic… by the end of it I needed to take a hot shower to feel clean again.
Amy has developed a huge following in the New York comedy scene. She has made a name for herself after coming in 4th place in the Last Comic Standing competition. She is also a regular guest on the Opie and Anthony show.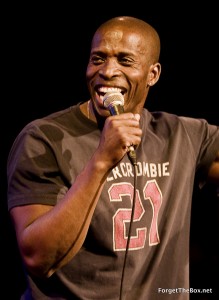 Set List Show
For the second show I attended I went over to the Mainline Theatre to check out a show featured on Sky television in Europe.
The show featured comics: Sklar Brothers, Sean Cullen, Troy Conrad, Godfrey, and Steve Patterson, big names in comedy. But also changed it's set list daily. So every show was its own experience.
Set list: Comedy without a net is not a safe place to be a comic. Mainline Theatre's midnight show is where comics come out to test out new material in front if a live studio audience. A place for nonsensical themes that bring us to strange places in the minds of these comics, and sometimes, to disastrously funny conclusions.
Themes like trendy graveyards, caucasionally, and the other deadly sin were on the agenda.
Each comic was completely unaware of what "subject" he might get hit with, some words seemed randomly strung together, leaving the comic to improvise on the spot… which I might add, these professionals did with ease.
This show was definitely a highlight of this years Zoofest, it would be great to see it again next year.
*photos by Phyllis Papoulias