In North Dakota, there is a town that has its own currency that residents use to purchase locally-grown food.   In Ottawa a man will rent your unused garden space and pay you back with fresh produce.   And in Montreal, a group of people are teaching others how to turn urban space into green space that grows something to eat.   These are three new initiatives that raise the bar on what people can do to help make their lives and the lives of others more sustainable.
Paying rent with vegetables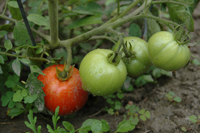 If you live in the Ottawa area, resident Jesse Boynton Payne wants to transform part of your back yard, front yard or unused lot into a garden and grow food.   In exchange, you get a basket of fresh produce from his company.   He came up with the idea because he wanted to garden and doesn't have the space himself to do so (he lives in an apartment).
Payne created Vegetable Patch after getting laid off from his job and today they sell fresh, organic produce free of chemical fertilizers locally through their delivery service and give a free weekly basket to those offering up space to them as a garden to tend.   They already have enough space for this year, but plan on using the website to link those with space to offer to others with green thumbs and no spot to use them.
Learning how to garden in an urban setting
In Montreal, Greening Duluth is offering a one-day crash-course for beginners covering everything from caring for plants and an introduction to vegetable families to small space/high-yield garden design.   The course runs next Sunday, April 19th, from 9am to 4pm and costs $48.
This follows a 12-week detailed course on how to turn ordinary urban spaces like fire escapes and rooftops into gardens to grow real produce.   The final project of this course is to turn the parking lot in front of the House of Friendship where Greening Duluth is based into a garden.
Greening Duluth is an organization established to create a sustainable green community in the heart of a major metropolis.   For information or to sign up for the course, you can contact Sarah at urbangardening101@gmail.com

Brother can you spare a plenty
The city of Pittsboro, North Carolina knows a thing or two about sustainability and thinking locally.   They have an eco-industrial park which houses Eastern Carolina Organics, an organic vegetable distributor as well as Piedmont Biofuels and ECO Blend, a bio-herbicide and bio-pesticide company.   There's also a sustainable farming program at Central Carolina Community College and the Chatham Marketplace, a co-op grocery store which is also the hub of the community.
In 2001, they took the next step: their own currency.   The Pittsboro Plenty currently comes full, half and quarter denominations (the full being the equivalent of $10 US dollars), but they are changing it to be on par with American Federal Reserve notes.   Since their locally-owned bank, Capital Bank, is now going to exchange Plenties for US currency, it looks like more merchants in town will begin to accept it as payment.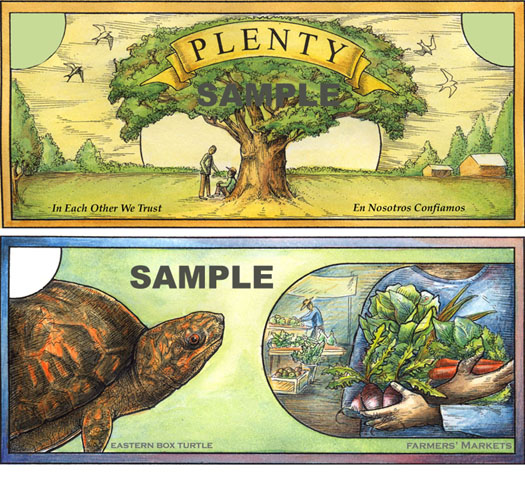 "If you buy a book at our locally owned bookstore…the dollar will go round and round and round before it leaves town," Lyle Estill, author and the founder of Pittsboro Biofuels told Democracy Now!, "if you take that dollar and send it directly to Amazon, it leaves town immediately, never to be seen again."
An interview with Estill talking about the Plenty and the situation in Pittsboro can be viewed here: